Track and field teams place second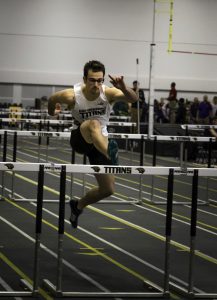 Both the University of Wisconsin Oshkosh men's and women's track and field teams placed second at the Titan Challenge held at Kolf Sports Center on Saturday. The men's team scored 146 points while the women scored 112.5.
Freshman Cara Volz recorded a pair of top-12 national performances for the Oshkosh women, including a first-place finish in the 60-meter hurdles with a time of 8.96 seconds. Volz also finished third in the triple jump with a skip of 37-6 3/4.
Volz is now ranked 11th in the NCAA for the 60-meter hurdles and 12th in triple jump.
Interim head coach Mary Theisen said Volz's confidence has played a big role in her success this season.
"The best thing about Cara is that she's a freshman, but she is confident," Theisen said. "Confidence speaks volumes, and if you're confident, it doesn't matter if you're a freshman or a senior. She has a very bright future."
UW Oshkosh also had three other individual winners, including junior Emily Reichenberger, who took home first place in 60-meter dash with a time of 7.77 seconds. Senior Erica Munyen took home first in the mile with a time of 5:07.21, and junior Kristen Linzmeier won the 800-meter run with a time of 2:14:03.
Freshman Ashton Keene finished in second place in the 5,000-meter run with a time of 19:22:00.
The UWO women performed strong in field events. Senior Elizabeth Abhold, who competed in the 20-pound weight throw, scored a distance of 54-3 1/4.
Junior Alyssa Ryan also contributed in the pole vault, placing second with a height of 12-3 1/2. Ryan's score in the pole vault is the 11th best in the nation this season.
Sophomore Lauren Wrensch received second place in the long jump with a leap of 17-6 1/2.
Theisen said although her team took second in Saturday's meet there is still room for improvement in the following weeks.
"Consistency in our season is very important," Theisen said. "Although with the way we peak our athletes, there are times in the training that they have an off week. We just need them to keep their chins up when things aren't going perfect and trust the process."
The men's team had a strong showing in the pole vault, with four participants placing in the event. Junior Devan Gertschen won with a height of 15-5 3/4, senior Matt McMullen and freshman Joe Vils shared third place with a height of 14-6 while junior Mitchell Hasey finished eighth with a jump of 14-0.
Junior high jumper Dakota Griffith, who recorded a personal record of 1.92 in Saturday's meet, said he is satisfied where he is at this point in the season.
"I think overall as a team, we took a great step forward," Griffith said. "For me personally, I had a lifetime personal record and I couldn't be happier with it coming the week before conference. Our high jump crew is all performing well and we are going to come into the conference meet and compete the best we can and get some spots on the podium."
Oshkosh finished at the top in both the 800- and 3,000- meter runs placing in second, third and fourth place in both events.
In the 800-meter run, junior Joe Zack finished second with a time of 1:54.50. Senior Derrick Rufer received third place with a time of 1:56.40, and Junior Mitch Pauers placed fourth with a time of 1:56.95.
Freshman Skyler Yunk finished second for the men in the 3,000-meter run with a time of 8:58.34. Junior Trevor Damkota scored third for the Titans with a time of 9:02.44 and sophomore Bennett Krueger placed fourth in the event with a time of 9:05.41.
The UWO men had three other individual winners as sophomore Christian Lopez took first place in the 60-meter dash with a time of 6.92 seconds.
Sophomore Morgan Malm also captured the 60-meter hurdles in 8.37 seconds, and sophomore Justin Skinkis took first in the mile run with a time of 4:17.62.
In relay events, the men scored first place in the 1,600-meter run as Malm, junior Garrison Griest, sophomore Ryan Powers and senior Danny Trimmer received a time of 3:18:20. The performance is the second-fastest time in the NCAA Division III this season.
In the long jump, both senior Hunter Effa and sophomore Carson Weber won the event and recorded measurements of 22-0 3/4. Junior Bryce Mancheski also contributed placing sixth in the event with a leap of 21-6 1/4.
Some other notable performances include Weber, who also placed second in the high jump with a leap of 6-5 1/2, and sophomore Bailey Quinn listed fifth in the 35-pound weight throw with a distance of 54-4 3/4.
Quinn said he owes his success this season to his coaches and fellow teammates.
"There is always this push from one another to throw farther and be stronger," Quinn said. "I owe a lot of my success to my coach who has taught me everything and helped me be the best I can be."
With close to three months left in the season, Quinn said he's excited to transition from indoor competition, to outdoor competition.
"Even with having so much of the season left, I am excited to see how our indoor season transitions into our outdoor season," Quinn said. "There have been many huge successes everywhere on the track and in the field, I also think that the team is setting up nicely for our upcoming championship season."
UW Oshkosh will continue competition at the WIAC Indoor Track & Field Championship on Friday and Saturday in Menomonie.