Titans fall to Hope College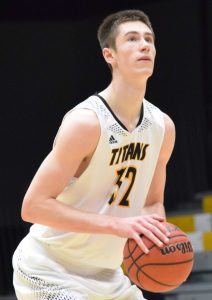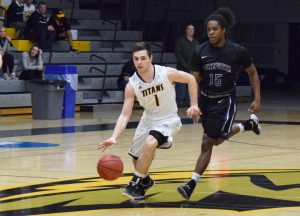 The UW Oshkosh men's basketball team's season came to an end on Saturday as it fell to Hope College by a score of 85-87 in the first round of the National Collegiate Athletic Association Division III Men's Basketball Tournament.
The Titans took on D3Hoops.com 18th-ranked Hope College at DeVos Fieldhouse in Holland, MI in front of a crowd of 2,744 people.
Titans head coach Pat Juckem said the team played hard and ultimately had a good season.
"I'm disappointed that we didn't come out of there with a win, but I'm just really proud of our guys and how they conducted themselves," Juckem said. "I thought they represented our program and themselves and our league in a great fashion."
It was a game where there were five lead changes, and the Titans' highest lead was seven points.
Senior forward Max Schebel got things started with a jump shot for the Titans.
Hope was quick to answer with a layup, but a 3-pointer from junior guard Charlie Noone gave the Titans a 5-2 lead that was short-lived after a three from Hope tied the game.
A layup and a free throw from Schebel were countered by a jump shot from Hope's leading scorer of the night, junior guard Harrison Blackledge.
Hope retook the lead with a layup, but a layup from freshman center Jack Flynn gave the Titans the lead yet again.
With 16:09 remaining in the first half, the Titans were up 10-9.
A pair of free throws from Hope sophomore guard Dante Hawkins put the team up by one point.
A 3-pointer from Hope was answered by a three from Titans' sophomore guard Brett Wittchow that put them within one point of Hope at 13-14 with 13:48 to play in the first.
Hope extended its lead with a jump shot; however, a 3-pointer from Titans' sophomore guard Ben Boots tied the game 16-16 at 13:22.
A foul on Noone on a 3-point attempt gave the Titans the lead after Noone was successful on all three free throw attempts.
Boots added a 3-pointer to give the Titans a 22-16 lead with 12:09 remaining in the first half.
Hope answered with a layup from Blackledge, but a 3-pointer from Titans' freshman guard David Vlotho extended the Titans' lead 25-18.
The Titans then fell silent for nearly three minutes in which Hope scored 10 points to give them the lead, 25-28 at 7:44 in the first.
A jump shot from Wittchow broke the silence for Oshkosh, but Hope was quick to respond with a 3-pointer from junior guard Chad Carlson.
A layup from senior guard Taylor Jansen put the Titans within two points at 29-31, but a pair of free throws and a three from Hope made the lead 29-36 with 5:25 remaining in the first half.
The Titans went on a quick 8-3 run that put them within two points of Hope at 37-39.
A layup from Hope was countered with a layup from freshman forward Adam Fravert to make the score 39-41 at 2:15.
Schebel had a layup that tied the game at 41-41 with 50 seconds to play, but a 3-pointer from Hope's junior guard Mitchell O'Brien put them up 41-44 to close out the first half.
Noone got things started for the Titans in the second half with a layup. Hope countered with a layup and a 3-pointer that made the score 43-49.
A jump shot from Schebel and a layup from Flynn were answered by four points from Blackledge, but the Titans were able to go on a quick 6-3 run to put the score at 53-59.
A 3-pointer from Hawkins began a 10-5 run for Hope.
A jump shot from Flynn inched the Titans closer with a score of 61-69 with 7:13 remaining in the game.
A pair of layups from Hope lead to a 3-pointer of Boots who also made two free throws from a foul after another jump shot from Hope.
The following possession for Hope resulted in two made free throws from Blackledge after a foul from Schebel that made the score 66-77 with 5:07 to play.
A 3-pointer from Jansen began a 17-8 run for the Titans that included two 3-pointers from Boots and one from senior forward Sean Dwyer, a jump shot, a free throw from Jansen and a dunk from Flynn.
With 1:22 to play in the game the Titans narrowed Hope's lead to 83-85.
Both teams were silent until 22 seconds remained when Hope's junior forward Cody Stuive made a pair of free throws off a Dwyer foul to make the score 83-87.
The Titans following possession resulted in a missed layup by Boots that was rebounded by the Titans who got the ball to Boots for a 3-point attempt that did not go in. However, Boots got the rebound and passed it out to Jansen who tried a 3-pointer but missed as well with seven seconds remaining.
With five seconds to play, Boots grabbed another rebound and got the ball to Wittchow who was able to make a layup, but it was not enough as time expired with Hope ahead 85-87.
Despite the loss, Boots said the game was an experience of its own.
"It was a great experience; the atmosphere was great," Boots said. "It was kind of everything you hope for in an NCAA tournament in March."
Boots was the leading scorer on the Titans with 23 points. Boots' accomplishments this season earned him a place on the All-Wisconsin Intercollegiate Athletic Conference Basketball First Team, along with Noone.
Jansen was one of five seniors on the team, along with Dwyer, Schebel, Tyrone Moore and AJ Mueller. The five of them were part of Juckem's original recruiting class when he came to take over the men's basketball program in the 2012-2013 season.
Juckem said the five seniors paved the way for returning and future players and set the standard of the program.
"To have been in three straight conference championship finals and two straight NCAA tournaments, it just speaks to what they've accomplished and what they're leaving behind," Juckem said. "One of your goals is to always leave a place better than you find it, and they have accomplished that in spades."
Jansen said the last week of the season preparing for Hope was a time with his team he will never forget.
"With our game against River Falls, losing in the WIAC championship by one, thinking everything was over and then sitting and watching the selection show on Monday thinking that we have a chance and then ultimately getting another week; that week was awesome," Jansen said. "I wouldn't trade that week for anything."
"