Sammy goes to St. Louis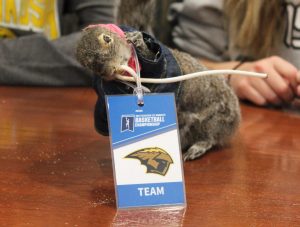 ST. LOUIS — Eliza Campbell said there is one thing she wants to remember about traveling to St. Louis with the UW Oshkosh women's basketball team to play in the third round of the NCAA Tournament this past weekend.
"That we're in the Sweet Sixteen," Campbell said. "Win or lose, this is a big deal."
Although the Titans fell to Washington University of St. Louis Friday night, junior Jaimee Pitt said the experience of being able to travel somewhere else to play is what she will remember most.
"I feel like this has more hype because it feels like a bigger deal," Pitt said. "Obviously, last weekend was a big deal and it was a lot of fun. But here, it just feels like the next level."
Campbell added on to what Pitt said and gave her own point of view.
"I think it's kind of cool because we get to experience this a little bit more," Campbell said. "We kind of get to experience this now: skipping school, coming and playing at a different place. We didn't really get to do that last week because we were still in school while the other teams were enjoying Oshkosh."
About an hour and a half into their trek to St. Louis on Wednesday, head coach Brad Fischer announced they would be stopping at the UW Madison Kohl Center. The team practiced there for about two hours, junior Kendell Truttman said.
"We were told we were going to stop at Edgewood to practice, but coach surprised us with the practice at the Kohl Center," Pitt said. "That was really exciting. It was a fun way to start off the trip for sure."
Campbell said players from UW Madison's men's basketball team, like Nigel Hayes and Ethan Happ, watched the Titans practice.
On Thursday, the women's team explored St. Louis by checking out the Arch and seeing the Cardinals' baseball stadium. However, the players were unable to go up into the Arch because it is under construction, Pitt said.
Truttman said the memories the team made off the court this season are some of the most important ones.
"It has been a lot of fun," Truttman said. "You make a lot of memories that you'll look back and you won't ever get those back. You never get sick of the team. As much as people are like 'you spend so much time with them' it's normal for us."
The team was sure to bring along Sammy the Squirrel so he could also enjoy the experience with the team. The good-luck charm could be seen sporting an NCAA credential card around his neck. According to Pitt, the team used him to 'ding-dong-ditch' guests' rooms.
The team even played some pranks on its coaches.
"One of our teammates left Sammy in one of the coaches' bathroom, so in the middle of the night they found him," Campbell said.
Sammy is not the only one who is proud of what the team accomplished this season. Prior to Friday's game, Pitt said Fischer has been supportive of the team all year.
"He's really proud of how far we've come and all of the accomplishments we've had and to just keep building off of it," Pitt said. "Even if this is the last game, we've made it. We did a huge run and it was a successful year. He's proud of us either way."
As for Truttman, she said she will never forget the times she spent with her teams here at UWO thus far.
"When I was a freshman being in the Sweet Sixteen for the first time, this team is way different from that team," Truttman said. "I think that's what makes it so cool. Every year your team is way different than the one before. It's special to enjoy it with the team that you're with."