Baseball improves to 7 wins after Florida trip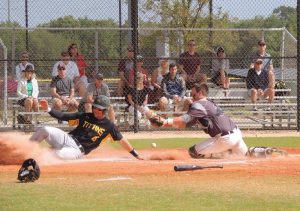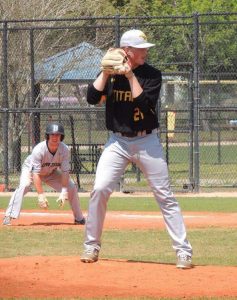 Through their first 11 games the UW Oshkosh baseball team is in the midst of their longest winning streak since the middle of the 2015 season after winning five of their past eight games played over the course of March 17-24 in Auburndale, FL.
Titans head coach Kevin Tomasiewicz said he gives credit to the pitching staff for the win streak.
"It's been a long time since we've won this many games in a row," Tomasiewicz said. "The credit, right off the bat, has to go to the pitching staff. Our four starters have really done a phenomenal job of really setting the tone after our three-game losing streak to begin the spring trip."
The starting rotation of junior Jacob Pohlman, junior Lucas Gregory, junior Jesse Sustachek and sophomore Brendan Meissner has gone for a total of 37 strikeouts and 53 allowed hits.
The Florida trip began for the Titans with three losses in a row against the University of Massachusetts Boston, Eastern Connecticut State University and Clarkson University by scores of 4-3, 17-5 (in eight innings) and 16-14, respectfully.
The next five games for Oshkosh proved to be successful, as they went undefeated the rest of the way and outscored their opponents 29-5.
Junior shortstop Jack Paulson said he attributes the start this team is having to preparedness.
"I think the biggest thing is maturity," Paulson said. "We've got a lot of older guys now that have been playing since freshman year and they kinda know how it goes. Hard work pays off, that's for sure. It's nice to start off 7-4."
Through the first 11 games of the 2016 season, the team went 3-8.
Oshkosh's first victory of the Florida trip came against Washington and Jefferson College on March 20 by a score of 4-1.
The second and third victories were against Bowdoin College (Maine) on March 22 in a doubleheader, with the first victory ending 10-0 and the second resulting in a 6-1 result.
The Titans faced the University of St. Thomas (Minn.) on March 23 and earned another win with a score of 3-2.
The Titans finished their trip on March 24 with a 6-1 victory against Union College (N.Y.) that clinched a five game winning streak.
In their most recent victory against Union, Titans' junior first baseman Andy Brahier lead the way for UWO with three hits that produced four runs.
With the Titans' runs coming in the first, third and fifth innings, Oshkosh got off to a fast scoring start with three early runs.
Paulson began the game with a single to left field. Sophomore infielder Zach Radde singled to right field to advance Paulson to second and put himself on first.
Both Paulson and Radde advanced a base on a passed ball.
After a groundout by junior outfielder/catcher Logan Reckert, senior outfielder Johnny Eagan doubled to center field to score both Paulson and Radde, making the score 2-0 with one out in the top of the first.
Senior infielder Tyler Kozlowski was next at the plate and made it to first after being hit by a pitch.
Brahier was next to hit and brought in his first run of the game with a single to left field that advanced Kozlowski to second and scored Eagan making the score 3-0 with one out.
The Titans ended the top of the first with a 3-0 lead after Brahier got out at second by a fielder's choice from a hit from sophomore outfielder Dylan Ott and a strikeout from sophomore center fielder Jensen Hinton.
The Titans got two more runs in the top of the third as Reckert got things started for the Titans with a single to right field.
Eagan was next to bat and struck out looking. That was followed by a single to right field by Kozlowski who managed to advance to second on a throwing error that also advanced Reckert to third.
At the plate next was Brahier, who brought in two more runs after a single to right field that scored Kozlowski and Reckert. With one out in the top of the third, the Titans were now up 5-0.
The inning ended after two outs from Brahier being picked off at second and Hinton striking out looking.
In the last inning, Oshkosh managed to score in the top of the fifth via a double to left from Brahier who got his fourth RBI of the night by scoring Reckert.
Union managed to score one run in the bottom of the fifth from a single to left field by sophomore infielder Anthony Amoroso that brought in a runner at third.
The rest of the game went scoreless and ended with the Titans on top 6-1.
Although the Titans are off to a good start, Brahier said Tomasiewicz is not letting the success get to their heads.
"He does a good job of not letting us get too high on ourselves, especially not getting too low on ourselves either like when we lost those three in a row," Brahier said.
"Just kinda keeping a level head, keeping the trust that we're a a good team and what we can do regardless of the outcome."
Tomasiewicz said the team's record pleases him. However, he also said he realizes there is still work that needs to be done and the season is just starting.
"I'm excited and optimistic about the future right now for this team," Tomasiewicz said. "We have some things we gotta work out, but it's better to be starting 7-4 than 4-7."
The Titans play next this Saturday, April 1-2, in Minnesota in a doubleheader against The College of St. Scholastica. They continue their Minnesota trip by facing Saint Mary's University in a doubleheader on Sunday, April 2.