Tennis travels to Hilton Head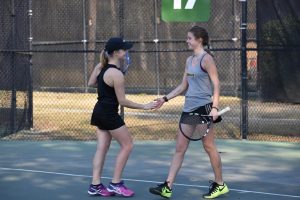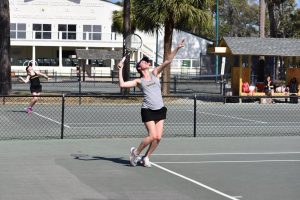 The UW Oshkosh women's tennis team concluded its five-match spring break trip in Hilton Head Island, S.C. with its lone victory over Hollins University (Va.).
The Titans were defeated by Union College (N.Y.), University of St. Thomas (Minn.), The College of Wooster (Ohio) and St. Olaf College (Minn.) last week.
The UWO women received a pair of defeats from Union College and the University of St. Thomas on Monday. Union College defeated the Titans 7-2, and the University of St. Thomas shutout UW Oshkosh 9-0.
Freshman Lesley Kutnink defeated Union College's Paige Webster with a score of 6-7 (5-7), 7-5, (10-5). Freshman Samantha Koppa also contributed for the Titans as she defeated Alex Greenberg, 6-0, 6-0.
UWO lost a pair of matches to the College of Wooster and St. Olaf College on Tuesday in Hilton Head by a score of 7-2. Koppa earned three of the four team points for the Titans by winning both of her singles contests and the No. 2 doubles match with Freshman Alyssa Leffler against St. Olaf College (4-3).
Koppa defeated Elizabeth Brewington, 6-3, 6-2, before beating St. Olaf College's Morgan Steffen by a score of 6-0, 6-3.
Koppa and Leffler each won their doubles matches by an 8-5 score over St. Olaf College's Kellis Brandt and Ella Hagopian. Leffler scored UWO's last team point against Wooster (5-4) with her 6-4, 6-0 victory over Rachel Mole at No. 2 singles.
The Titans closed the five-match trip to South Carolina with a convincing 9-0 win over Hollins University (Va.) on Thursday.
UWO won six singles contests against its first-time opponent in straight sets while capturing 24 of the 34 games in doubles play.
Three Titans won their singles contest by 6-0, 6-0 scores, including Leffler, who defeated Olivia Dannon in the second flight. Other UWO players who won were Koppa over Kaitlyn Woodruff in the fifth flight and freshman Monica Micoliczyk over Kandyce Mayes in the sixth.
Micoliczyk said she took a different approach to her last game of the trip.
"I was able to regain some lost confidence and really focus on playing each point as it comes and not focus on the outcome of our matches as a whole," Micolinczyk said.
Junior Bailey Sagen won her match versus Jhovanna Salmeron at No. 1 singles with a score of 6-0, 6-1.
UWO Head Coach Robert Henshaw said Sagen, the Titans' No. 1 competitor, has an impressive performance.
"In her last match, she played with confidence and won the big points," Henshaw said. "Bailey is a unique player because, unlike many of her opponents, she has all the shots in the game. Once she begins to understand the right time to use her creativity, she will get winning results."
Kutnink, a freshman, defeated Kateri Johnson 6-0, 6-1 at No. 4 singles. The Titans also received a 6-4, 6-3 victory from Hannah Peters over Amelia Verkerk at the No. 3 singles.
Kutnink said the team is focused on getting better one match at a time.
"As a team I think our main goal is to win matches against schools with similar ability," Kutnink said. "We lose matches by losing tie breakers or losing 6-8 in doubles which can make a huge impact on our team's overall score. Each match we play we strive to get better, and with time, our line-up will get more experience and develop more strategies to win."
In the doubles matches, UWO earned a pair of victories as Peters and Sagen defeated Johnson and Salmeron in the first flight while Koppa and Leffler ousted Verkerk and Sarah Jordan Snoddy in the second.
Recapping on the weekend, Henshaw said while his team didn't get the results they wanted, they are showing signs of improvement.
"Although our team results did not reflect wins, we are getting better," Henshaw said. "We beat up on the teams when we know we're better. Now we need to play with the same confidence when we compete against teams that are of similar ability to us."
Henshaw said obtaining a winning record for the rest of the season is a realistic goal for the future.
"We have three dual meets left in the spring season," Henshaw said. "Our goal is to have a winning record from here on out so that we can finish with a .500 record or better for the 2016-2017 season."
Micoliczyk said the team has some things to work on in practice.
"As a team, we have decided to really work on our mental toughness within points," Micoliczyk said. "Instead of expressing negative emotions we have made a goal to think clearly in between points and only allow positive thoughts."
UWO has a break until its next game when it matches up with Iowa's Coe College and Wartburg College on April 15 in Cedar Rapids, Iowa.