Volleyball falls in championship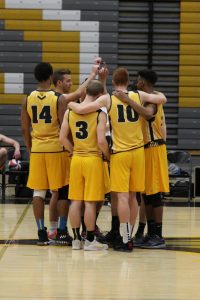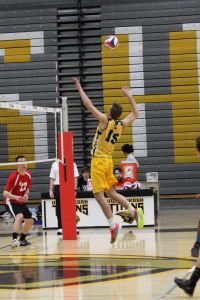 UW Oshkosh men's club volleyball saw its title streak come to an end on Saturday at the hands of The Ohio State University.
The Titans have been the model of consistency and dominance the past decade, which included three straight titles from 2014-2016.
Head coach Brian Schaefer said there is no shame in falling short with this team.
"Our expectation in our program is to come home as champions ever year but it wasn't in the cards this season," Schaefer said. "Our players have nothing to hang their heads about. They had a phenomenal year, overcoming many injuries and key losses to graduation."
UWO went down in a three-set thriller to the Buckeyes 20-25, 25-15, 12-15. Prior to Ohio State, the Titans started with three match wins on Thursday, which included victories against the University of California-Berkeley, the University of Cincinnati and No. 23 University of Missouri.
On Friday, the Titans provided another knock-out performance, topping the University of Notre Dame in sweeping fashion and the No. 15 Air Force Academy. UWO reached the gold bracket for a 14th time since 2003.
The Titans went on to dominate the University of Pittsburgh in two sets, before falling to the No. 7 team in the country, Ohio State.
Schaefer said he was proud of how his team handled the spotlight stage with all the adversity this team has dealt with this season.
"We went toe-to-toe with a great team and, earlier this year, beat the eventual national champion at the Las Vegas Open," Schaefer said. "I am proud of our team and their accomplishments."
Seniors Peter Nordel and Travis Hudson took home First Team and Honorable Mention All-Americans, respectively. This was Hudson's fourth All-American award after being named National Player of the Year three years in a row [2014-2016].
Hudson said this season has been special because his teammates and coaches have been more than just his team, they are his family.
"This season was special for a couple of reasons," Hudson said. "Being my last season was special in itself. Playing with guys I've been with since my freshman year has also made it a great season. And the experience to step on the court with people I'd consider family outside of the gym and play for each other made this year that much better."
Hudson talked about how this program doesn't fear the expectations. He said the team embraces what has been done in the past and that is what has made this program magical.
"Having high expectations allows us to really reach for the top of the mountain," Hudson said. "If we only set our goal for making the gold bracket at nationals, we would be surprised if we made it that far. Our expectations to not only make gold but to contend for a national title gives us the drive to make us want to be great. I think that is what makes UW Oshkosh such a great volleyball program."
Hudson said he is honored to be considered such an asset to the team.
"People told me after we lost that I had done things for this program, but I personally don't know to the extent what they meant," Hudson said. "My accomplishments came from playing with great teammates, having great coaches and loving what I was doing. I'm glad I had the opportunity to lead different teams over the years and that they trusted me to be their leader."
UWO finished the 2017 campaign with a 41-5 record and have placed fifth or better 13 out of the last 15 seasons in Kansas City. That includes six titles and two runner-ups.
The Titans say goodbye to Hudson, Michael Wamboldt, Joe Kuchler and Wesley Morioka.
Wamboldt said he was happy with the time he was able to spend with this team and the legacy they have left.
"I am thankful to have chosen this organization and I hope the guys I played with over the years will continue to have success in both volleyball and life," Wamboldt said.
Hudson said this team's emotion when the season came to an end showed the love these gentlemen had for this season.
"My lasting memory will be the final huddle our team had after our loss," Hudson said. "I know it was a sad moment, but in that moment, the amount of dedication and passion every single person had invested in the season showed. It was a great sight to see how much everyone cared, because it showed how much us playing together meant. I wish they could have been tears of happiness, but even through tears of sadness I could feel the emotions of every single one of my teammates and coaches."