Oshkosh tennis serves up wins to start season
[media-credit id=188 align="alignnone" width="208″]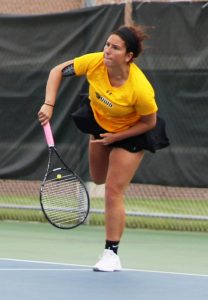 [/media-credit]
The UW Oshkosh women's tennis team racked up three consecutive victories over the past week to put its season record at 3-1 for the first four matches of the year.
On Sept. 12, the squad hosted Ripon College and racked up its third win of the season with a final score of 9-0. This marked the 17th win in the last 21 games against Ripon for the Titans.
Leading the sweep for the Titans were the doubles teams composed of freshman Kelley Hodyl and sophomore Lesley Kutnink and sophomore Monica Micoliczyk and junior Ashlee Polena, as both squads took home 8-0 victories. Sophomore Samantha Koppa and senior Bailey Sagen recorded the third victory in doubles competition, winning 8-1.
In singles, Sagen and Micoliczyk both recorded 6-0, 6-0 victories, while senior Hannah Nauth, Koppa, Kutnink and Hodyl all took home Titan wins.
The Titans, who are fifth in the conference behind UW-Stevens Point, won their second event just a few days prior on Sept. 10. The Titans defeated the Green Knights of St. Norbert College 8-1 in De Pere.
Able to cruise to an easy win, the Titans earned victories in all three doubles contests and only lost the first flight of singles matches.
The No. 1 doubles squad of junior Hannah Peters and Sagen defeated the Knights by a score of 8-4, with the second and third-best UWO duos defeating St. Norbert's with a combined score of 16-8.
In singles matches, sophomore Alyssa Leffler, Koppa, Kutnink, Peters and Hodyl all took home victories for the Titans. This was the 17th victory for UWO in the last 24 matches against St. Norbert.
UWO hosted its second home matchup of the season on Sept. 7, facing off against the Marian University Sabres from Fond du Lac. It was a victorious night for the Titans as they went on to win their first event of the season.
The Titan doubles teams started the night off strong, as the teams of Peters and Sagen, and Hodyl and Kutnink defeated Marian's Meg Hartzell and Mackenzie Meyers (8-2), and Brenda Ordonez and Alyssa Ostrowski (8-3), respectively.
Sagen said the emphasis head coach Robert Henshaw has put on doubles play since the preseason this year played a big part in the team's success.
"[Coach Henshaw] was working a lot with doubles, with coming to the net and positioning ourselves at the net so we can win points better," Sagen said. "We've been working on that pretty much everyday since preseason."
The team of Koppa and Leffler defeated Marian's freshman team of Kyrsten Bruce and Emma Lewandowski (8-0).
Koppa said she saw Henshaw's doubles emphasis as a turning point for the team, and the summer preparation from the team echoed Henshaw's emphasis.
"I think that's boosted our confidence a lot for doubles and making sure we close those points," Koppa said. "Then throughout the summer, I know a bunch of the girls have played on different leagues and played just throughout the summer having a racquet in the hand, if it's coaching or just playing."
That extra preparation showed during that night's singles matches as UWO went on to win five of the six singles matches played, eventually defeating Marian University with a final score of 8-1.
Henshaw said the players were able to handle both sides of tennis and continued to battle until the last match.
"In tennis, you're not only playing the opponent, but often times you're playing against yourself and what you're thinking out there," Henshaw said. "So it's just a constant battle of trying to think positive, coming back from being down, playing the big points right, and I think pretty much all of our girls did that."
Henshaw said even though the team may be young with only two seniors, experience can be more valuable than age at times.
"It gives young people an opportunity to play," Henshaw said. "In tennis, age isn't as important; it's experience. So even though they might be freshmen and sophomores, they've probably played a ton of tennis growing up."
Henshaw also said the first few matches were great learning experiences for the Titans. He also added how difficult the beginning of the season can be for freshmen.
"No player in college beats themselves," Henshaw said. "That's really a huge challenge for a lot of younger players, learning to not beat themselves."
The Titans now head to Holland, Mich. for the Hope College Invitational from Friday to Sunday.
The next Titan home event is on Thursday, Oct. 5, in a conference showdown against UW-Stevens Point.