UWO CC earns seventh-place finish
[media-credit id=292 align="alignleft" width="300″]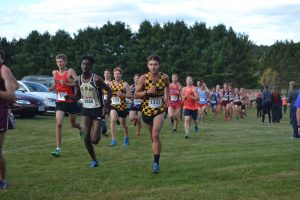 [/media-credit]
Both the men's and women's cross country teams from UW Oshkosh took home seventh-place finishes in the UW-Eau Claire Blugold Invitational. The squads both had one runner earn a top-25 finish, including a Titan taking home first place in the women's race.
Women's results
For the women, senior runner Cheyenne Moore continued her strong season as she took home gold on Friday, Sept. 29 with a time of 22 minutes. This marked Moore's third consecutive single-digit finish in the season, and this was her second first-place tally of the season after winning the Roy Griak Invitational, the meet before the Blugold Invite.
Following Moore was sophomore runner Ashton Keene in 45th place and freshman Hannah Lohrenz taking home a 46th-place finish. This marked the third race of the season for both runners, and their second-highest finish each.
The women's team is comprised of 19 runners, with nine freshmen. Keene said this team dynamic of youth dominating the ranks and offers up a challenge to every member of the team.
"I think that having a mix of newcomers and returners is beneficial to the team dynamic in that the newcomers have a lot of energy, both excitement and nerves, about beginning their collegiate career that really pumps the team up," Keene said. "The returners are able to guide that energy by showing them the ropes and encouraging them. It is important to establish a balance early on so that we build trust and camaraderie, which in turn helps each individual become better."
In total, the Titans had all 13 runners place in the top 100. Only the top seven runners only counted towards the team's overall point total, and the team was the fourth-highest finishing school from the Wisconsin Intercollegiate Athletic Conference in the meet.
After Keene and Lohrenz for Oshkosh, the final four placing runners took home 53rd, 60th, 66th and 68th place.
Senior Jessica Stamn earned 53rd with a time of 24:31.6, which equaled out to a time of 6:34.5 per mile on average. In 60th, junior Cammy Garvelink ran a 6:37.8 average mile pace to a 24:43.9 total race time.
Rounding out the top finishers for the Titans were freshman Reece Matheson and junior Hannah Thorn. Matheson's time of 24:52 and Thorn's time of 25:10 were both season bests for the two on 6,000 meter courses.
Other finishers for UWO included Tayah Cunningham in 141st place, Amanda Van Den Plas in 144th, Erica Liesen in 147th, Lexus Brown in 152nd, Allison Chen in 158th and Melissa Srnka rounding out Oshkosh's participants in 175th place.
Head coach Eamon McKenna said overall the team had a strong performance and that improvements were made from last week's meet.
"For the women, we raced better than the previous week in Minnesota, but we still have a lot of work to do in order to be where we would like to be as a team," McKenna said. "Expectations are higher than we've shown so far, but we're also suffering from quite a few injuries on that side. Moore ran another great race, demonstrating poise and confidence in collecting her second consecutive victory."
Men's results
The men's squad also ran to a seventh-place finish at the Blugold Invitational, and the top four finishers for the Titans were all freshmen, led by Lucas Weber in 19th. Michael Juarez contributed to the total, not far behind Weber in 23th place.
Weber said the team focuses on each meet at hand and does not look too far ahead to ensure its top form for each event.
"I think we are just working on improving each week, focusing on each workout and going from there," Weber said. "We know, as a team, that we are not super deep or super strong right now, but we do realize that we do have a lot of potential if we stay healthy and work hard. Everybody is slowly coming back around."
The next two runners, freshmen Cody Chadwick and Spencer Muffler, took home 45th and 51st places, respectively, for Oshkosh. For Chadwick, this marked his third race and second-best finish after his 10th-place tally last week in the Griak Invitational. For Muffler, 51st place was his third-best result in four races over the course of this season.
Next up for the men was junior Brian McKnight. His 53rd-place finish was only three seconds behind Muffler's finish two spots before him and equaled out to a 5:22 mile pace.
Rounding out the top-placing runners for UWO were freshman Skyler Yunk in 62nd and senior Daniel Massey in 63rd. For both Yunk and Massey, this was their third-best race of the year, with this being Yunk's third race and Massey's fourth of the season.
Fifteen other runners, including seven freshmen, five sophomores and three juniors, gained experience and ran in the meet for Oshkosh.
McKenna said even though the team showed improvements in this meet, there were areas of focus that need to be worked on for the rest of the season.
"The men's team had a very nice day in terms of personal records, but we were disappointed to get beat by all the other conference teams at the meet," McKenna said. "With eight of our current top 11 runners being freshmen, we know we are young this year, so it's not a huge surprise, but we will certainly go through some growing pains this year."
General thoughts/ Looking ahead
McKenna said while athletic performance is what the team focuses on for goals, there are other facets the team wants to achieve in order to make this another successful season.
"Our season goals include stay[ing] consistent and positive during a challenging year, improving each meet and being in position to complete at a high level at the end of October and into November," McKenna said. "Earn[ing] All-Academic status for each team (3.10+ team cumulative GPA) and be[ing] leaders in our campus and surrounding community by making good decisions and being active in volunteer work [are also important.]"
Both teams will look to make good on their athletic goals in the Gene Davis Invitational at Reid Golf Course in Appleton on Oct. 7th.
Last year, both teams ran at the Gene Davis Invitational. The women recorded a fourth-place finish out of nine teams, while the men took home seventh place out of nine schools.
For the women, Thorn led all runners for the Titans with a 21st-place run. Sophomore Amanda Van Den Plas took home 25th, and her sister, sophomore Breanna Van Den Plas, finished 37th.
Leading the men was junior Jacob Rost, who finished in 16th place.