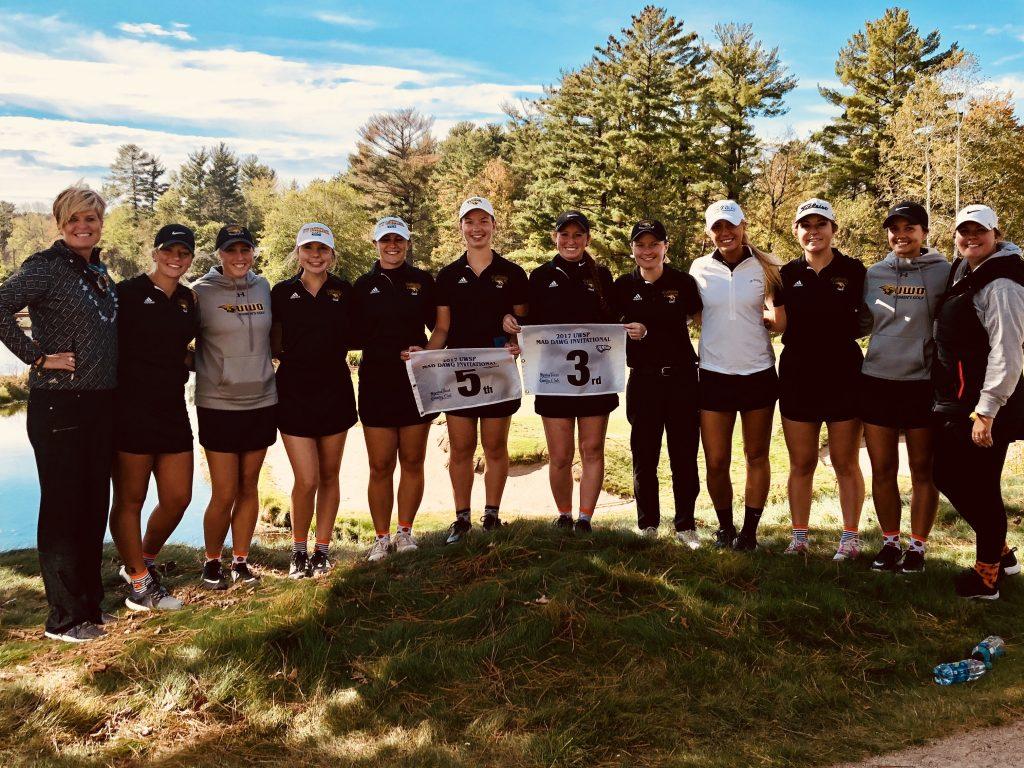 The UW Oshkosh women's golf team spent Saturday and Sunday in Stevens Point at the Mad Dawg Invitational. The team took home third place out of 13 teams in a field largely composed of Wisconsin Intercollegiate Athletic Conference schools.
Senior golfer Micayla Richards was the leading scorer for the Titans, placing third out of 73 golfers. Richards trailed UW-Whitewater's Ashley Hofmeister by five strokes after the first round of play. Richards then shot a tournament-best 76 on Sunday but fell two-strokes short in her comeback effort.
Richards said for her to ensure she performed well, she needed to remain very focused on letting the bad shots go in order to focus on the next one.
"On Sunday, I was able to let go of the bad shots easily and take advantage of birdie opportunities," Richards said. "I really just focused on one shot at a time and tried avoiding all trouble areas."
Oshkosh also had strong finishes from junior Kayla Priebe and sophomore Hannah Braun coming in at fifth and tenth, respectively. Priebe turned in her scorecard with a two-day score of 159, good for 13-over par.
Priebe said she is feeling confident after two strong finishes in the past two tournaments, but knows there is still work to be done.
"I did not start the season off well, but at our past two tournaments I have played much better, and that is definitely a great feeling going into our conference tournament next weekend," Priebe said. "However, each day of golf is a completely new day, so I will be working hard in practice this week to prepare for our conference tournament."
Other team finishers for the Titans were freshman Keara Richards in 29th place at 30-over par and junior Ireland Dunne in 53rd place at 43-over par.
Individual golfers playing in the Mad Dawg tournament were sophomores Anna Scheibe, Hanna Rebholz and Sophia Mazurek, and freshmen Michelle Lodholz and Claire Hamburg. While these golfers did not end up factoring towards the team score, head coach Liza Ruetten said they are just as vital towards the team's success.
"Our individual players beyond the five are the future of this team," Ruetten said. "All season, we have rotated players 4-10 in order to give all a chance to compete at the collegiate level. Every meet leading up to this weekend has helped all [players] to gain tournament experience to ensure that we will be ready to play our absolute best."
When struggling on a hole, Coach Ruetten said she uses a few tools to keep the players focused on the next shot they will have to make.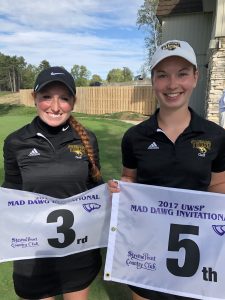 "Players that might be struggling on a hole are reminded that they have team members on the course who are there to support them" Ruetten said. "We have personal relationships with each player and try to get them to forget the errant shots or higher scoring holes and look forward to the next by injecting humor and stories to get their mind off of the negative."
The golf team travels next on Oct. 6 – Oct. 8 in Reedsburg, Wis. for the WIAC championship. The tournament begins at noon on Friday afternoon, and continues on Saturday and Sunday at 10 a.m.
The team took a preseason trip to Reedsburg Country Club to play a round before the season started. This helped the players who haven't played the course before get acclimated to the characteristics of the course.
Bob Feller, an 18-year PGA Professional at the course, explained what players have to prepare for when coming to their course.
"Fast greens are a signature of our course," Feller said. "There is a little adjustment period for the players to try and get used to the faster greens."
Heading into the final weekend of the WIAC fall season, Ruetten said practices take on a different dynamic and become much more important.
"Practices for our final week become more personalized," Ruetten said. "Coach [Laura] Stair and myself will be working with each individual to determine what their specific needs are in order to be successful for our conference championship."
Expectations will be heightened for the returning golfers as Braun, Priebe and Micayla Richards all finished in the top-ten of the tournament last year.
They will try to prevent defending champion UW-Stout from repeating as conference champions again, and will attempt to earn an automatic bid to the NCAA championship in Florida next May.
Improving upon last year is a goal held by the team. In last year's WIAC Championship, the Titans held a lead into the third and final day of the contest. Not being able to withstand a furious rally by UW-Stout, Oshkosh took home a second-place finish and lost by five strokes, 980-985.
In last year's conference championship, the team had members earn individual honors. Of returning athletes, Braun, Priebe and Micayla Richards all recorded top seven finishes in the final event of the year.
In Priebe's sophomore year, she took home a third-place finish with a total of 242 strokes over the three-day tournament. Prior to this event, she had recorded a first, second and a third-place finish during the season.
Ever since Ruetten took over the program in 2012-2013, the team has finished in seventh place only once, in her first year. After that, the team has taken home fourth, third, second and first-place finishes in consecutive years leading up to this season.
The WIAC conference championship begins Oct. 6.