Tennis defeats UWSP, moves to third in WIAC standings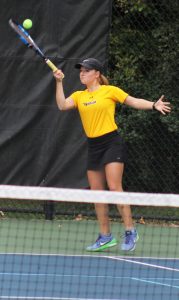 The UW Oshkosh women's tennis team returned to its winning ways. Last week, the team defeated the UW-Stevens Point Pointers 7-2 on Thursday and moved up to third in the conference standings.
It was a big night for the Titans with only one loss in both the singles and doubles categories. Those losses came indoors as heavy rain hit the Oshkosh area after the first two matches.
On top of the rain changing things up for UWO, the Pointers have been known for their unorthodox playing style and great coaching. UWO head coach Robert Henshaw said he was impressed with the Titans and how they overcame those major factors.
"At some level, that can be very tough to play against, but our girls came and honestly dominated," Henshaw said. "In years past, that kind of style of play that Stevens Point presents can be troublesome. But once you get to a certain ability level, you should be able to play right through that. I was impressed to see how we beat them."
The Titans outscored the Pointers 92 sets to 35 on Thursday. At the end of the evening, the Pointers averaged just over two sets per match, whereas Oshkosh averaged a little over six.
This win for UWO came just two days after a 9-0 loss to the still undefeated UW-Whitewater Warhawks that ended a five duel winning streak for the Titans. On the season, Oshkosh is now 6-2 overall and 2-2 in conference.
Last week, junior Hannah Peters fell to Whitewater's Jillian Wallace 6-1, 6-1. Peters saw an opportunity to improve an element of her game for Stevens Point and said there are ways to make improvements during the year.
"I could easily improve on my first serve percentage," Peters said. "I can utilize it more often to set up points and winning opportunities."
Those opportunities were open for Peters against Stevens Point, as she defeated Pointer Abbey Johnson, 6-3, 6-4.
The Titans are going to need to be on their A-game throughout the next few weeks as the Wisconsin Intercollegiate Athletic Conference Championship tournament is happening in Madison on Oct. 21 and 22.
Another Titan looking to fine tune her game heading into these final two weeks is freshman Kelley Hodyl. Hodyl said she is focused more on her consistency from match to match.
"I think I could improve more on my consistency," Hodyl said. "I think a downfall in my game is missing those easy shots or making too many unforced errors and basically beating myself instead of my opponent beating me."
The Titans' win against Stevens Point is a great rebound for the team after the loss to the Warhawks. Henshaw said he is optimistic about the team's play at Whitewater, and knows that they played better than the score may suggest.
"I feel as though we left a lot of good play on the table, and I think that our players felt the same way," Henshaw said. "I would expect that we can do a little bit better and I think that we're actually closer in ability than our score would have reflected. But we'll see them again so we'll have that shot."
That shot will come at some point during the championship tournament in Madison. But for now, the Titans have two contending teams waiting at the end of this week.
The Titans have a very young team this year with five sophomores and one freshman. That can sometimes be an issue for players transitioning from high school to college-level competition.
But the team has been able to welcome the new faces with open arms. Hodyl, being the only freshman on the team, said her teammates helped the most with that transition.
"As a freshman, I didn't know what to expect or how the 'college game' was played," Hodyl said. "The girls on the team and our coach have made it an easy transition."
On Friday, the Titans are away against the fourth-place UW-La Crosse Eagles. For the last home appearance of the season, UWO is facing off against the fifth-ranked UW-Stout Blue Devils.
After that, it's off to Madison for the WIAC Championship Tournament.