UW Oshkosh gets victory on Senior Night, defeats Blugolds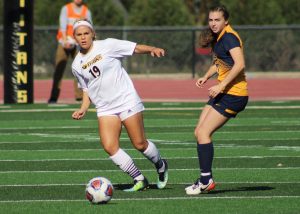 The UW Oshkosh women's soccer team earned one win and one tie over the weekend after facing the UW-Eau Claire Blugolds on Saturday and the Concordia University Wisconsin Falcons on Sunday. The Titans defeated the Blugolds by a score of 2-1 and were shut out by the Falcons by a score of 1-0.
The Titans suffered their first defeat in nearly a month after giving up an early goal to the Falcons.
Concordia forward Shannon Carroll scored the pivotal goal for the Falcons on a cross from Alexandra Tomic in just the fourth minute of the game. Her shot was the first of the entire contest.
The Titans had many opportunities to fight back, including UWO forward Addie Schmitz's chance to tie the score midway through the first half, but the forward's kick hit the post during the 24th minute of play.
UWO attempted 10 shots against the Falcons and Concordia attempted 17 shots during the match.
UWO goalkeeper Jessica Galason finished the game with six blocks against Concordia, stopping three in each half.
Against UW-Eau Claire, UWO sophomore forward Michaela Schenk and freshman forward Hannah Zacher each scored goals early in the second half to lead the team to a 2-1 victory over the Blugolds on Senior Night last Saturday at J.J. Keller Field.
The Titans, who have now extended their conference unbeaten streak to seven consecutive victories with a record of 4-0-3, trailed 1-0 for the first half of the match until Schenk received a pass and converted a 5-yard shot in the 53rd minute of action.
Eau Claire got offensive contribution early after scoring on a 3-yard header by forward Monica Zoellner during the 12th minute of play. Zoellner scored on a rebound off the crossbar.
UWO held Eau Claire to just nine shots in the entire match. The Blugolds were only able to strike one shot in the second half.
The Titans totaled 11 shots overall, including UWO forward Maddie Morris who shot three times and freshman forward Delaney Karley who shot twice during the game.
Galason recorded five saves, with the last opportunity coming after a kick with 21 minutes to play.
UWO senior defender Felicia Retrum said the team is satisfied with the results, especially the conference victory.
"I think with playing two games back-to-back this late in the season is a challenging task for any team," Retrum said. "With going one-on-one, I think that our team did pretty well; although we didn't get the result on Sunday that we would have hoped to, I think winning the conference game over the non-conference game was important to do."
UWO head coach Erin Coppernoll, who is now in her 14th year coaching at UWO, said this year's senior class has made a different but lasting impression on her.
"This group of six seniors has been a lot of fun to work with; they haven't been too overly stressed or anxious during their senior year," Coppernoll said. "We have four kids who have been here all four years, and we have two that have come over for their last two years and that dynamic has made it different from past years."
Retrum reflected on her four-year career and said her Senior Night was one filled with tremendous accomplishments both on and off the field.
"Senior Night was an incredible night; you never think it'll actually come, but standing in that senior spot this year was an emotional day," Retrum said. "Playing as a Titan over the last four years has been an incredible experience that I will never forget. Not only do you get to play the game you love for four more years, but you get to meet some pretty amazing people along the way that you create lifelong friendships."
Morris said she has learned a lot from this senior class that can translate much further than the game of soccer.
"The biggest thing you can say about these seniors is how hard each one of them is willing to work on and off the field," Morris said. "They push everyone to work their hardest during our fitness, help everyone to stay focused during small drills and, most importantly, each one of them are leaders."
Looking ahead, the Titans will go on the road to face the current first-place UW-La-Crosse Eagles. Retrum said that while the Eagles bring forth a plethora of offensive firepower, if the Titans stick to the basics they will be in a good position to be competitive in the match.
"I think it is very important to note that La Crosse is a very strong team that can put away goals," Retrum said. "Knowing this going into Saturday's game, it is our job to prepare for this. Working on [one-on-one] defending will be crucial to our success on Saturday."
The Titans will go to La Crosse on Saturday to face the Eagles at Veteran Memorial Field Sports Complex.
This game will help determine the seeding for the WIAC Championship playoffs, which will begin on Oct. 31. The semifinals are on Nov. 2 and the final is on Nov. 4.