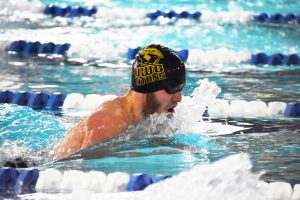 UW Oshkosh's swim and dive team traveled to Lawrence University Saturday, Nov. 8 for the Gene Davis Invitational. Both the men's and women's teams had a strong showing at the meet as both teams placed second out of six schools.
Men's team
The men compiled a team score of 466 but that wasn't enough to overcome the winner of the meet, Lake Forest College, who finished with a score of 547. Five different swimmers posted scores in the top-four of their events to lead to the second place finish.
Freshman Jarrett Lieder recorded one of the Titans' two second-place finishes in the 1650-yard freestyle event. Lieder finished 41 seconds ahead of UWO senior Grady Hilgendorf with a time of 18:01.66. After the leader and eventual winner of the race, Max Rowland of Lake Forest College got out to a pretty strong lead, Lieder did a nice job posting consistently faster lap times than the rest of the field to touch the wall in second place.
Lieder said she has to stay mentally strong when swimming the longer races.
"I just break down the mile by 500 [yards] and just take it one [lap] at a time because it's a long race," Lieder said.
Hilgendorf earned every point of the third place finish in the 1650-yard freestyle race by beating Lawrence University swimmer Jordan Spaulding by 38 one-hundredths of a second.
Sophomore Bryan Solomon had three good races, giving his team a total of 44 points. Solomon first hit the pool in the 50-yard freestyle in which he placed sixth out of 26 swimmers with a time of 23.88 seconds. He then posted a time of 56.95 seconds in the 100-yard butterfly event, good enough for fourth place. Finally, Solomon touched the wall in third place in the 200-yard butterfly as he finished with a time of 2:12.10, 42 one-hundredths ahead of Oshkosh freshman Josiah Vandenburg.
Freshman Matt Wilke also continued his early season success by coming in second in both the three and one meter dives.
Upperclassmen have been a part of Lieder's splash onto the scene here at UWO.
"[The upperclassmen] are teaching you stuff all the time; sometimes they know which set is coming and it's nice to know that," Lieder said. "They're always there to help you."
Women's team
The women finished 39 points behind winner Carroll College. The women lost to Carroll College in a dual meet earlier in the season. In a team effort, the Titans had eight swimmers place in the top four of their respective events. Leading the team was sophomore Sydney Challoner as she took home two first-place finishes as well as a third-place finish.
Challoner won the 200-yard individual medley race by beating out Kaitlin Squier of Carroll College by over a second. Once again, Challoner beat Squier by over a second in the 200-yard breaststroke later in the meet.
Challoner attributes her success to hard work in practice.
"Working hard in practice on technique and working with [coach] Culp every day [helps post good times in meets]," Challoner said.
Senior Mckinzie Halkola also had a successful day as she took second out of 19 swimmers in the 100-yard backstroke with a time of 1:02.61. The senior won the 200-yard backstroke, beating out 14 other swimmers with time of 2:15.35.
Swimmers who also had good performances in their events were freshmen Becca Birriel and Tessa Shorten. Birriel had three top-four finishes in the 200-yard individual medley, 100-yard breaststroke and the 400-yard individual medley. Shorten placed second in both the 100-and 200-yard freestyle events.
Other female swimmers with top-four finishes were UWO freshman Jennifer Lutz (2nd 100 yard butterfly; 4th in 200 yard butterfly) and junior Gabby Kraus (3rd one meter dive). Senior Alison Panske took sixth in a field of 26 swimmers in the 50-yard freestyle.
Head coach Christopher Culp was excited to have his team tested in a meet with more than just one other school.
"It's a competition that shows that we're a little bit deeper of a team," Culp said.
Culp explained the impact of colder weather on the swimmer's performance.
"This is a tough time of the season because it's getting cold, it's dark, school is hitting them hard, and I'm hitting them hard," Culp said. "In the beginning of the meet, we were a little sluggish and it took us a second to wake up but once we started going, we started racing pretty well."