Titans take over basketball- Women's
[media-credit id=188 align="alignleft" width="190″]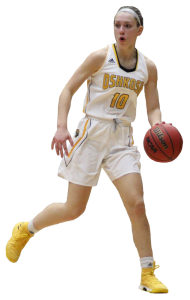 [/media-credit]
Aiming to continue its strong run through the season, the UW Oshkosh women's basketball team was only able to record a victory over UW-Platteville. The team has begun the new year at 7-4 in conference play, which puts UWO in third place with three conference contests remaining.
UWO drops second straight to Warhawks
After falling to Eau Claire on Saturday, the Titans lost their fourth game of the year in a 72-60 home loss to UW-Whitewater. In an offensive struggle for Oshkosh, only three players produced double-digit scoring totals in the defeat.
Senior forward Eliza Campbell led the way for UWO with 16 points on six-of-eight shooting from the field. She also contributed six rebounds and one assist.
Other contributions came from junior forward Isabella Samuels, who knocked down five of eight shots for 11 points, and senior guard Emma Melotik, who hit the only three of the game for Oshkosh and added 10 points.
Eau Claire ends UWO's winning streak
The Titans' seven-game winning streak was ended as the team fell to the Blugolds in Eau Claire, 67-62, on Feb. 3. In the loss, the team only shot 38.6 percent from the field and lost both the rebounding and assist total to the Blugolds.
Junior guard Chloe Pustina, who played a game-high 35 minutes and had five points, six rebounds and four assists, said the team was capable of better performances than what it produced on Saturday.
"We were kind of shocked by the toughness and we got rattled when things got hard," Pustina said. "But I know, especially from previous games, we are capable of being the tougher team and more focused team to battle through the tough times."
Head coach Brad Fischer noticed the intensity the Blugolds played with throughout the game and said that made the difference in the loss.
"I really thought they played harder than we did and competed a little more consistently," Fischer said. "I thought we did a good job learning from the two losses and building off [them] to get better, so I hope that we see a new sense of urgency going forward."
Leading UWO in scoring were Melotik and Eliza Campbell. In the game, both players contributed 12 points and three rebounds.
Melotik said the team's energy was a culprit for the defeat, which is an area she believes the team can easily fix.
"The loss at Eau Claire taught us that we cannot take any possessions off and that [we need] to work hard the entire game," Melotik said. "I think our biggest problem with Eau Claire was that we got outworked, so moving forward we definitely cannot let that happen again."
Other contributions came from junior forward Isabella Samuels, who put up 10 points and four boards, and senior forward Madeline Staples, who came off the bench and scored 11 points in 20 minutes.
Fischer said even with the loss, he hopes the team can use this as a wakeup call as the playoffs draw near.
"We got a reminder that if we don't play really well and really hard, you are vulnerable even if you don't think you are," Fischer said. "Hopefully that is enough to play hard and show up in the playoffs and play hard enough in our league."

Oshkosh hands Pioneers 14th loss
Behind 12 points and nine rebounds from Eliza Campbell and Samuels, Oshkosh extended its winning streak to seven games after a 65-55 victory on Jan. 31. A balanced attack helped push the Titans to victory, as six players scored at least seven points.
Besides Eliza Campbell and Samuels, the starting unit's contributions came from three guards, Pustina, sophomore Olivia Campbell and Melotik.
On the night, Pustina played a game-high 33 minutes, scoring 10 points on four-of-six shooting while earning two assists. Olivia Campbell filled the stat sheet, putting up seven points, six rebounds, four steals and three assists in 26 minutes, while Melotik also scored seven, and had one rebound, steal and block.
Bench contributions came from junior forward Melanie Schneider, who put up nine points on 4-10 shooting in 20 minutes. Schneider also had three boards, one assist and four steals.
Senior guard Jaimee Pitt, freshman forward Karsyn Rueth and Staples combined for eight points, one rebound, two assists and two steals.
Looking ahead
The team it has three more conference contests to help determine the postseason seeding for the Wisconsin Intercollegiate Athletic Conference tournament. To end the season, the team will play at UW-La Crosse on Feb. 10, which gave the Titans its second consecutive loss on the season to open conference play.
The team will then host UW-Stevens Point on the 14th, followed by the regular-season finale in Oshkosh against UW-Stout.
The WIAC Championship tournament begins on Feb. 20, with the championship game and automatic NCAA tournament bid being played for on the Feb. 24.