UWO tennis wins seven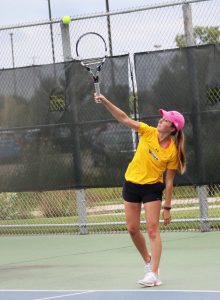 This past weekend on Sept. 15 and Sept. 16, the UW Oshkosh women's tennis team traveled to Hope College in Holland, Mich. There, the Titans competed in the Hope College Invitational exhibition event.
It was a struggle for the Titans to get wins over the weekend. In doubles competition UWO went 0-9, and in singles matches the Titans combined for a tally of 7-21.
The Titans played against three D-II teams in Michigan last weekend. Head coach Robert Henshaw explained that it gave the team the opportunity to self-evaluate and improve before conference play starts.
"Grand Valley State, Hope and Calvin are all very strong teams," Henshaw said. "I knew we would be challenged from top to bottom in our lineup. I wanted to give our women the opportunity to play very good players and get some quality wins. It is important for us to compete against strong opponents before we see teams ranked toward the top of our conference."
That first high-ranked matchup will come in two weeks time on Tuesday, Oct. 3 when the Titans head to UW-Whitewater to face the conference-leading Warhawks.
UWO was not able to pick up a lot of wins over the weekend, but Henshaw said the challenge of the opponents proved the Titans have some positive potential moving forward.
"Playing against exceptional opponents in singles can really simplify the game," Henshaw said. "You quickly learn what you need to improve in order to give yourself a chance. Although we lost a few matches where we really had the opportunity to win, everyone on our team played the best tennis I've ever seen from them."
The Titans are already taking the self-evaluation and improvement to heart, as sophomore Lesley Kutnink lent some insight into the improvements she's hoping to make.
"As the season progresses, I'm looking to improve on more doubles strategies or ways to close out tight games," Kutnink said. "My doubles partner [freshman Kelley Hodyl] and I are great at making it to deuce, but we struggle to win the advantage point. Mentally, we need to stay focused, and physically, we need to move our feet just a little better."
Kutnink and Hodyl provided four of the seven Titan singles wins over the weekend, but lost their three doubles matches. Sophomore Alyssa Leffler also provided one of the singles wins for UWO, but took one loss in doubles with sophomore partner, Sami Koppa.
The Titans are striving to make improvements both on the court and mentally, Leffler said it was a great experience and atmosphere, but she is looking at playing to a smoother game.
"As the season continues, I hope to improve a few of my little habits that I tend to do," Leffler said. "I was grateful to be able to be a part of such an amazing team, and the experience was awesome."
The competition was tough, and the Titans did not come out with very many wins to speak of, but Leffler said it doesn't mean that they did not have a good time.
"We were able to have the opportunity to play against opponents from D-II and not only were they super fun, but we were able to apply various new strategies and techniques," Leffler said.
UWO lost some close battles during its time in Michigan. But these new strategies and techniques, along with those battles, have Henshaw optimistic about the rest of the season.
"My hope is that we can maintain the momentum I observed throughout the weekend," Leffler said. "We are starting to get healthy throughout our lineup and I believe our best tennis is ahead of us."
On tap for the Titans is a matchup at Lawrence University in Appleton. There, they face the 5-6 Vikings on Tuesday, Sept. 26.