With Thanksgiving and winter break being just around the corner and at the top of most of our minds, commuters and those with a lease alike are spending the majority of the holiday season here in Oshkosh. Luckily, there's a lot to do in Oshkosh to pass the time and chase away the seasonal blues while still keeping warm. 
Novembers always tend to be busy, and this one is no different. With exams and essays galore, a lot of us are starting to get burnt out. What you might need is a change of scenery, something new and refreshing. Although the same 3 study spots can be comfortable, cozying up with a latte can be too. Moreover, it can actually help your memory to study in a new place; and it's even better to study in a different environment for different exams. Lucky for you, we have enough cafes downtown for every exam you may have. 
One of my personal favorites is New Moon Cafe for its beautiful and calming atmosphere, the free smells, and the comfortable booth seating. A close second is Planet Perk, a "Friends"-themed coffee shop for when you need a little whimsy and some cat cuddles thanks to their newest edition, the "Planet Purrrk" cat lounge. And don't worry– if you're allergic like me, there's nothing to worry about as the cats are in a separate room. You can read more about this newest edition of Planet Perk here. 
While studying is good, cramming can sometimes do more harm than good. Your brain is like a muscle, it needs time to process all of the information you're studying in order to remember it. Taking breaks in between studying can actually help your memory and even your grade. Unfortunately, it can be difficult to try and relax once you have those motors going, but there is a solution: Crafting! Crafting gives your hands something to do while also giving your brain time to rest because of the low-stakes nature of crafting. 
Even better, we have places both on and off campus for your convenience. You can check out the women's center this Friday, November 17th or December 1st for their 'Crafts, Coffee, and Community' event. Check out their event calendar here. If you live off-campus, you can visit the Fire Escape downtown where you can create a variety of DIY projects— pottery, yarn bowls, painting— even a wheel throwing class for couples so you can fulfill all of your "Ghost" fantasies. 
Once we get over this hump, however, many have to go through another: Thanksgiving. All of us are dreading the same three questions about school, relationships, and career. Whether that anticipatory anxiety is driving you mad or your uncle brings up politics again at family dinner, you can head over to Blades and Boards for axe-throwing to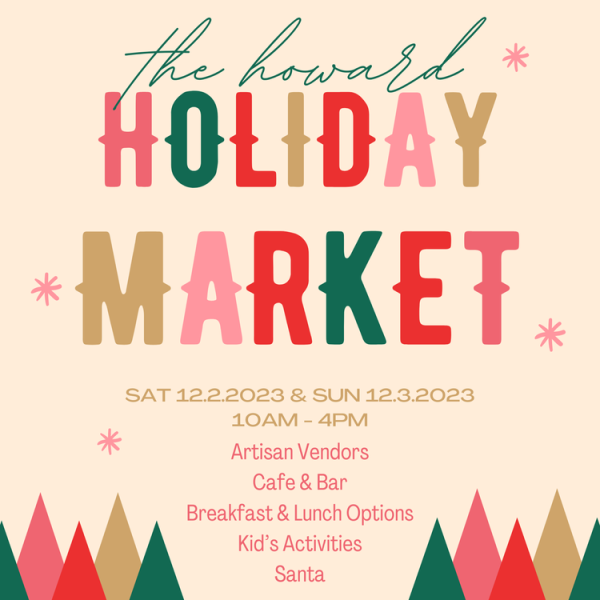 relieve some of that rage. You can learn more about their hours and prices here.
If you happen to have a good relationship with your family or a wonderful chosen family, The Howard is hosting a free holiday market from December 2nd and 3rd from 10am-4pm. I couldn't think of a better (or cheaper) way to kick off the Christmas season. While admission is free, you can buy from one of their many artisan vendors for unique pieces, buy yourself a hot cocoa, or even lunch. Even better, this is all hosted in their ballroom-turned-wonderland to ensure protection from Wisconsin's harsh winters.
Whether on-campus or off, broke or less broke, stressed or excited about the holiday season– there's a way for all of us to have a great holiday season here in Oshkosh. I know it can be easy to stay at home instead of braving the cold, but getting out there can be great for your mental health amid seasonal depression struggles and finals stress.