Tom Taraska, UWO alumnus and arguably one of the most successful high school football coaches in Wisconsin Interscholastic Athletic Association history, died Oct. 15 at the age of 71 after a single-vehicle car crash in Hartland.
According to the Waukesha County Sheriff's Department, Taraska died after the car he was driving hit a tree alongside Rybeck Road in Hartland around 4:40 Sunday afternoon.
Taraska, who graduated from UW Oshkosh in 1975 with an education degree, transformed Arrowhead Union High School into a perennial powerhouse in Wisconsin high school football.
He won four Division I WIAA titles with Arrowhead in 1993, 1994, 1996 and 2007 while finishing runner-up five times with the Warhawks (2000, 2002, 2003, 2006 and 2008). In 23 years of coaching in the WIAA Taraska built an overall record of 265-96, making him the 16th winningest coach in state history for any division.
UWO defensive coordinator Craig Stenbroten said Taraska was always really sound schematically as a coach.
"He always wanted you to be really sound and not try to run schemes that your kids couldn't do," Stenbroten said. "He wasn't just going to drop a wild blitz; he was about the basics and the fundamentals."
Taraska, who was inducted into the UW Oshkosh Athletic Hall of Fame in 2008, played football for the Titans in 1973 and 1974 under legendary UWO head coach Russ Young. Taraska served as the first president of the College of Education and Human Services Alumni Association from 2006-2007 and remained on the board of the organization until his death. A lifetime member of UWO's National "O" Club, he was named a UWO distinguished alumni award winner in 2011.
After his time with Arrowhead, Taraska was an assistant coach for the UWO football team for two seasons, helping the Titans to a second-place Wisconsin Intercollegiate Athletic Conference finish in 2014 and first place finish in 2015.
Stenbroten said when Taraska was a part of the Titan coaching staff, he cared a lot about coaching the coaches.
"We had a really young staff at the time and he was really trying to get us to the next level of where we were at in the coaching world," he said. "He really instilled a lot of confidence in a lot of people on our coaching staff. He didn't coach a position for us, but he did a lot with the film breakdown and things like that. He was always at practice and made sure we were crossing our t's and dotting our i's."
Stenbroten said that he was amazed at his attention to detail the first time he met Taraska.
"The first time I saw him, he was at a coaching clinic and I remember I was watching a clinic speaker talk and he was just taking these crazy ass notes," Stenbroten said. "I was like 'what could this guy possibly learn from this clinic that he doesn't already know?' It really just stuck with me that someone like that, with the accomplishments he had, just had such a detailed approach to coaching."
Taraska began his coaching career in 1978 where he was the head coach at Franklin High School for four years before moving to Arrowhead in 1982 where he coached for the next 29 seasons before resigning in 2010. He remained a part of the program as an assistant coach for one year before officially stepping away from coaching and teaching at Arrowhead in 2011.
Former Arrowhead Athletic Director Dave Balmer hired Taraska to turn a struggling Warhawk football program around, and he did not disappoint. Taraska won 11 conference championships and won 47 playoff games while at Arrowhead, leading the Warhawks to a state record nine WIAA championship game appearances from 1993 to 2008. Arrowhead has not missed the postseason since the 1995 season.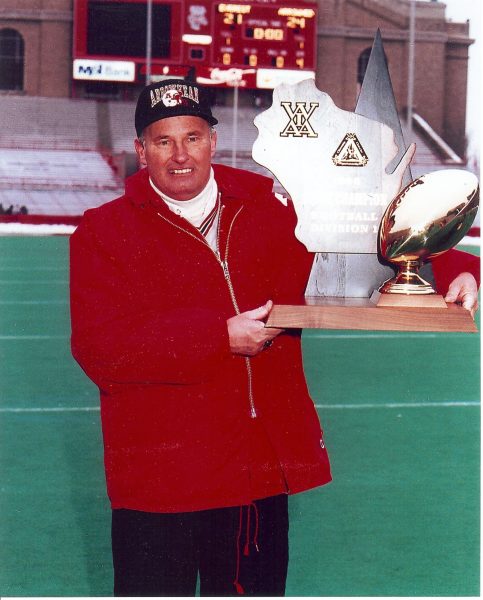 UWO alumnus and former Arrowhead assistant coach Paul Pulvermacher said Taraska had an unmatched knowledge of the game.
"He was a great motivator and was able to get the most out of his student athletes and staff," Pulvermacher said. "He remembered everything. He knew every sport and athletic achievements of his players and opponents. During my initial interview with him for an assistant coaching job, he discussed his defensive strategies used against the teams I played on 12 years prior."
Taraska, who coached three undefeated and nationally ranked teams, mentored 12 All-American players while 34 of his former players earned All-State honors. The most successful pro player Taraska coached was former Dallas, Baltimore and Tampa Bay center Mike Solwold who won Super Bowl XXXVII with the Buccaneers in 2003.
"We started from scratch, and things fell into place," Taraska said in 2011 when he announced he was stepping down from coaching the Warhawks. "I was very fortunate to house many outstanding assistant coaches that share all of this success. Plus you need great kids to win. Those guys bought into our system and that's how it all came together. The administration always backed us up, and the entire Arrowhead community helped make it happen. I was lucky, I had a lot of help."
Stenbroten said that he hopes that as younger coaches grow in the coaching profession, they give back as much as Taraska did.
"The knowledge he had was amazing and he was always willing to share with a coach and always willing to help you out if you were trying to adjust a drill or a scheme or anything like that," Stenbroten said. "He always would take the time to look at it. He was looking at our film just last year and was helping us out a ton with different suggestions of what we should do or could do and that part of him will really stick with me."
The Associated Press named Taraska State Coach of the Year in 2007 and the West Allis High School graduate was named The Milwaukee Journal Sentinel coach of the year in 1993, 1996 and 2002. Taraska, inducted into the Wisconsin Football Coaches Association (WFCA) Hall of Fame in 2004, was named WFCA Regional Coach of the Year in 1991, 1996 and 2002. In 2009, Arrowhead named its football field "Taraska Stadium" to honor the legendary coach.
Pulvermacher, who taught at Arrowhead from 2001-12 and coached alongside Taraska from 2000-2006, said the little things that Taraska did meant a lot to him.
"His accomplishments speak for themselves," Pulvermacher said. "To me the little things mean more. My contribution to the program was small and insignificant but on the sidelines before a Friday night game, he would always search out my father. Tom would tell him I was such a valuable staff member for the program. He didn't have to do it, but he did. To me that is his legacy — the little things."