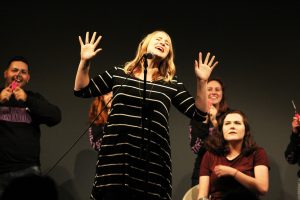 The all-male dancing group "Beat2Soul" won the annual talent show hosted by Reeve Union Board on Tuesday.
The talent show also featured students singing, dancing and other activites.
Haley Berger and Austin Riska took second place, with Dylan Finley taking third in the show.
Senior Maddison Warde, who organized the event, said the talent show is a tradition of Homecoming week.
"We do it every year. …" Warde said. "We have great turnout every year. People love it. Repeat acts, they love performing. There are about 11 acts, and 3 of them are repeats."
Senior Samantha Law-Gotich said she has been performing for years and on Tuesday night, performed a song from the TV show, "Crazy Ex-Girlfriend."
"I've been doing talent shows since my freshman year of high school, so I'm just continuing it through my last year of college," Law-Gotich said. "I love doing it every single year, and the past few years have just been me standing up there and singing, but this year I wanted to do something more fun."
Senior Jessy Feide, said the talent show was a way to overcome certain fears.
"I like doing talent shows, it's super fun and this was an experience for me because I've never played piano in front of people before, so it was kind of terrifying but a really cool experience," Feide said.
Freshman Kerrigan Lyga said that she went to the talent show to see fellow students express themselves in a variety of ways.
"It was so cool to see the different acts," Lyga said. "I would never be able to do something like this unless they put a basketball hoop and a ball up there. It's cool to see people putting themselves out there."
Freshman Lizzie Watson said it helped her have respect for the students performing.
"It helps us really appreciate other talents, because we're sitting there like, 'Wow. [I] wish we were like that,'" Watson said. "We enjoyed it for sure. Some places you just sit there and you feel like it's taking forever, but here didn't feel like that."
Freshman Kaitlyn Arvidson, said she saw the talent show as a sign of performers' strength.
"I feel like a lot of people weren't going to do it, but then decided they should do it, and it shows their personality and how strong they are," Arvidson said.
Warde said the talent show isn't the only thing the Reeve Union Board is putting on for Homecoming week, as there are many different activities still to come.
"One thing that's really fun to watch is the Yell Like Hell/Lip Sync, which is on Friday night at 6 p.m. in Albee [Hall]," Warde said. "That's just like a STOMP and the organizations put on a lip sync battle, and it's really fun. Saturday is Tent City over at the football field, and there's free food. It's like an organization festival, you can see what organizations registered and what we have on campus. It's just a little taste, with more free food and giveaways and games to play."
The next Homecoming event is a spoons tournament on Oct. 20 in Reeve 306 at 4 p.m.