New Moon offers creative outlet for Kubasta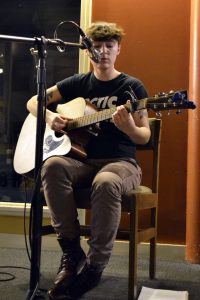 For senior Kathryn Kubasta, open mic night at New Moon Cafe offers an outlet to perform and express her creativity.
New Moon Cafe was founded by brothers Aaron and Jason Baer in the early 1980s and is home to Oshkosh's longest-running open mic night, running every Tuesday evening from 7 to 10 p.m.
Kubasta said she has been going to New Moon's open mic night almost every Tuesday since she was in high school.
"One of my friends when I was in high school played there a lot for open mics," Kubasta said. "I went with him, and when I got to college, it was even more convenient because it was nearby to the college campus. I used to do [open mic] every week, but lately I've been doing it about once a month."
Kubasta said she goes to New Moon because of the ambience the cafe provides.
"It has a really cool atmosphere, and they have good coffee," Kubasta said. "It's really easy to come and hang out here with friends. It's fun to come [to New Moon] listen to music, play and get food or coffee."
Kubasta said going to New Moon is great for new and veteran performers because people have the chance to perform in front of others.
"I think it's a good opportunity for people who have never performed before that maybe have written their own song and don't know how else to get it out there," Kubasta said. "You aren't going to get that kind of experience anywhere else in Oshkosh."
Kubasta started off her four-song set with a cover of "Simple is This" by Jake Bugg, "Cherry Wine" by Hozier and finished off by collaborating with another artist on a mashup of Major Lazer and Justin Bieber's "Cold Water" and "All Time Low" by John Bellion.
Cullen Sampson, a friend of Kubasta, said when he met her at New Moon a year and a half ago, he thought she was talented and wanted to collaborate with her.
"We've only worked together a couple of times," Sampson said. "She's really good, and I saw her play once and afterwards, I started thinking of songs we could do together."
In addition to Kubasta, fellow UW Oshkosh student Sara Mac played "Cocaine Jesus" by Rainbow Kitty Surprise and "Manchild," an original.
Most of the performers, including Sampson, sung original songs mixed with covers done by recognizable artists. Besides students, there were adults from a group home that are at the cafe to perform every Tuesday.
Kubasta wrapped up her set to roaring applause and blushed when someone approached her to compliment her performance.
Freshman Eli Allen-Folts said he can tell Kubasta has a lot of passion in her voice.
"I really thought Kathryn's performance was spectacular," Allen-Folts said. "Her covers were all geared to emphasize her own style. The mashup at the end with Cullen was the best. Their voices worked well with each other. I think I fell in love a little bit after their performance."
Girlfriend Natasha Gray said Kubasta's voice is relaxing and anyone would enjoy listening to her, regardless of their taste in music.
"Honestly, Kathryn's voice is part of what made me fall in love with her," Gray said. "We used to spend hours just sitting in her room and she'd play music and sing for me ,and she's always been very talented. Since I've known her, she has only gotten better."
Kubasta said she started playing music when she was seven, and eventually, it evolved into singing.
"I don't really do anything else besides music," Kubasta said. "I play guitar, ukulele and piano, a wide range of instruments. Music is kind of my thing."