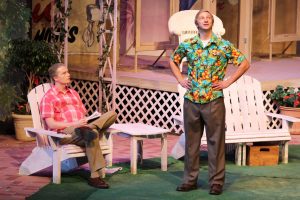 The UW Oshkosh theatre department examines family dynamics and capitalism in its upcoming production of Arthur Miller's "All My Sons," which runs Nov. 17 through Nov. 20 at the Fredric March Theatre.
"All My Sons," is set shortly after World War II and centers on the Keller family, comprised of a mother hoping her eldest son will return home after going missing during the war, and a younger son with survivor's guilt who looks up to his businessman father.
Director Richard Kalinoski said in light of the recent election, "All My Sons" is a timely show, focusing on the effects of a capitalistic ideology on the Keller family.
"We live in a democracy, which is fed by a rampantly capitalist society, so stories and plays that address some weaknesses in American capitalism are always relevant," Kalinoski said. "Even though it's set in 1947 the kind of thing that happens in [the play] is easily timeless and could easily be in the right now, today, tonight, especially in light of the fact that the American people apparently have decided to authorize Donald Trump as our president and he certainly has a history of demonstrating a measure of American capitalism, sometimes at its worst."
Garret Johnson, who plays father Joe Keller, said the show explores the different moral codes people use to guide them in business.
"There are people who make money and make a living off of not-honest work all the time," Johnson said. "The play goes to show how far that can get you but also how that can turn around and nip you in the butt."
Kalinoski said part of the play's commentary on capitalism concentrates on the consequences of being motivated by capitalism, even when done with the best intent.
"I think at the center is the issue of moral responsibility, and responsibility not just to yourself and your family but to your neighbors and your community and your nation," Kalinoski said.
Parker Sweeney, who plays the youngest Keller son, Chris, said "All My Sons" also explores how love influences moral obligations.
"It's a great look on the dilemma of the unconditional love one can have for a family but doing what's right," Sweeney said.
Maggie Clementi, who plays mother Kate Keller, said the audience would connect with the turbulent family affairs in "All My Sons," which are common around Thanksgiving.
"Families fight with and for each other, and this play is a great example of that," Clementi said.
With these heavy topics, Kalinoski said it would have been easy for the cast of the play to approach the play in a gloomy manner, but they've overcome that challenge.
"[The cast] has had this cheerful demeanor even though it's a sad, terrifically sad play," Kalinoski said. "They've been able to have fun and enjoy themselves."
Clementi said the sense of responsibility to a community "All My Sons" conveys has carried over into the entire cast.
"I've really enjoyed working with everyone in the cast; we've worked so well together and formed our own kind of community like we have in the show"Clementi said. "The cast truly functions as an ensemble."
Part of that community, Kalinoski said, is a young eighth-grade actor, Braden Cooper.
"[Cooper] has managed to join the cast with a strong sense of responsibility and he is wildly outnumbered by these college students, nine to one, and he's, quite frankly, very compatible with them," Kalinoski said. "This little guy brings a terrific burst of energy into the play."
"All My Sons" begins at 7:30 p.m. beginning Nov. 17-19 and at 2:00 p.m. on Nov. 20. Student tickets are $5 with valid Titan ID. General admission is $14 and UWO alumni and veterans pay $11. The box office is open noon to 4 p.m. and one hour before each performance."