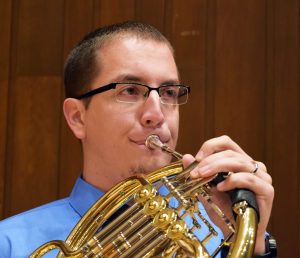 Alexander Witt, a French horn player at UW Oshkosh, recently won the 2015 International Barry Tuckwell Scholarship and was invited to perform at the International Horn Symposium in a masterclass.
Witt is also a member of the 132nd Army National Guard band, the Oshkosh Symphony and regularly subs with athe Fox Valley Symphony.
Throughout his years at UWO, Witt has moved up from the last chair horn in the University Symphonic Band to the principle player in both the wind ensemble and the University Symphony.
Witt said his talent as a horn player began early on with a simple interest in music.
"It started in fourth grade when I took up the French horn," Witt said. "I chose it because it was different than all the instruments that my friends chose."
He fostered his talent in his high school band, and wasn't sure he wanted to give up on all his progress in college. However, he began his college career studying computers and only pursued music through his minor.
Witt said he thought music wasn't going to be in his future when he came to college.
"I didn't want to quit music, but in order to fully invest myself in my major, I had to make some difficult choices," Witt said. "It was between doing well in computers, or continue with music."
Witt said it was his family who convinced him to follow his heart and continue with music. In addition, Witt decided to major in general education.
"They helped me realize what was truly important to me despite me not seeing it clearly," Witt said.
Witt said he has met some amazing people, through his experience in the UWO music department including professors that inspired him to pursue his passion for music.
"These people, including my professor Dr. Bruce Atwell saw some passion in me that I didn't see," Witt said. "Once they pushed me to be better and better, it made me love what I do even more."
Horn professor Bruce Atwell said Witt is dedicated to music and has been a role model and leader in the department.
"Alex is one of the most talented horn players to come through UW Oshkosh," Atwell said. "He has worked very hard to become a very strong horn player."
Another one of Witt's professors, associate professor of jazz and trumpet Marty Robinson, said Witt is a great musical talent that has been a mainstay within the music department.
"[He] is both a stellar horn player in the wind ensemble and orchestra, as well as a soloist with the UWO Jazz Ensemble, which I direct," Robinson said. "It's not so often that students are so exceptionally strong on more than one instrument, but Alex clearly is."
UWO student Katie Warren said his humor and confidence sets him apart from other artists.
"Alex is Alex," Warren said. "He not only is very talented in solo work and ensembles but he has proven his talent in the Jazz ensemble on the French horn, which is unique and takes a lot of independence and skill. He has a lot of areas of expertise."
Robinson said Witt changed during his UWO years by developing a focus and musical concentration that comes with maturity and practice.
"He listens a lot to quality music and has been able to surround himself with other strong players so that he continually is learning from others in any musical environment that he is playing in," Robinson said.
This is Witt's last year, before beginning student teaching. Looking back, he said he commends the entire faculty in the music department and his friends for making his time at UWO worthwhile.
"These concerts and performances were some of the most memorable experiences that I will carry with me in my career," Witt said.