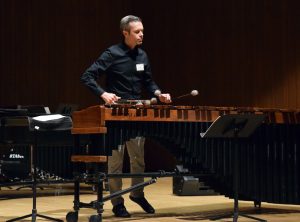 UW Oshkosh hosted the Wisconsin Alliance for Composers New Music Festival on Saturday to showcase local and state musical talent.
The Wisconsin Alliance for Composers is a non-profit organization that promotes music by composers while utilizing a Wisconsin connection.
The concerts were held at 5:30 p.m. and 7:30 p.m.
The first concert featured winning compositions from middle school, high school and undergraduate composers, including the winning undergraduate work of UWO senior Christian Jesse.
The second concert featured pieces composed by Wisconsin Alliance for Composers members performed by UW Oshkosh Music Department faculty and students.
This is the fifth time UWO has hosted this event; the last time was four years ago.
Freshman Megan Wilson said this was the first Composers Music Festival she has participated in.
"I think it went really well," Wilson said. "It was really cool to hear the different types of music that were played tonight."
Wilson said incoming and current students should consider joining the music program for great opportunities, including this festival.
"It helps you become a more organized person," Wilson said. "You meet a lot of new friends from different years, both older and younger."
Senior Mason Lee said he has performed in several composers' festivals, both with his own piece and as a performer.
However, this is his first one at UWO.
In addition to Lee, four other student performers in the second concert are members of the composition studio at UWO.
According to Lee, a big part of these festivals is being able to meet other musicians, students or professionals, while also being able to perform pieces by fellow Wisconsin composers.
"A large part of music is meeting people and knowing people," Lee said. "These events, like these festivals, we're fortunate to have and you get to meet musicians all over Wisconsin; unfortunately it's only Wisconsin, but, you know, it's still a bunch of people."
This specific music festival was organized and compiled by UW Oshkosh Department of Music professor John Mayrose.
Mayrose has composed between twenty and thirty pieces for these type of events explaining that he, and other composers, usually write their pieces and then submit them.
In order to get this event coordinated, Mayrose sent out a call to all the universities and composers that he knows to submit any works they have to be reviewed.
"For the student one, the one that was this afternoon, we have a blind review," Mayrose said. "So I collected all the works and I sent them to judges who didn't know who the composer was, but they judged the pieces and then we collected the scores and then gave out first place and honorable mentions."
For the composer concert, the process still required blind review but the biggest criteria to meet was that it could be performed at UWO. If an instrument was not available on campus, then a piece was not selected.
Mayrose strongly encourages future and current music majors to engage in these types of events to further their music experience and meet fellow musicians.
"We have students from UW-La Crosse, UW-Milwaukee, Lawrence University, and as well as one of our students," Mayrose said. "So we encourage them to submit any kind of thing like this so they can get their music played. It's also a great way to get to know other composers. I've gotten to know composers I didn't even know were in the state."
For more information on the Wisconsin Alliance for Composers, visit their website: http://www.wiscomposers.org/