WISCO! showcases local music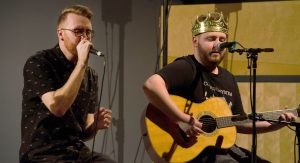 On Thursday night, Wisco! The Music Fest was hosted in the Reeve Ballroom and Titan Underground and featured eight local musical groups.
Happy to Be Here, The Present Age, Cullen Sampson and Queen Hilma performed their sets in the Reeve Ballroom.
The band Happy to Be Here consists of two guys who play guitar and keyboard with a pop-rock sound.
They played both covers and originals while taking turns playing their own solo pieces.
The Present Age is a two-man indie band with one on drums and one on guitar. They played covers and originals, including a song from their upcoming EP.
Cullen Sampson used a variety of instruments including guitar, keyboard, electronic music and vocal effects to provide an interesting switch from the other performances.
Sampson had an alternative rap style to his music and did mainly originals, but also performed covers.
An indie band, Queen Hilma, consisted of two girls who play bass and acoustic guitar, and used a box drum, cymbal, shaker and tambourine as the drums.
The two girls have been best friends since birth and have only been apart once for a year and half which inspired one of their songs.
Freshman D'Asia Harvey thought all the bands were good and enjoyed Cullen Sampson the most.
"I liked the fact that he was singing and rapping, so it was different," Harvey said.
Downstairs in Titan Underground, Barely Civil, Cold Soda Club, Clear Pioneer and Antics performed their sets.
Barely Civil, a band of four boys from Wausau, performed both originals and covers of rock songs.
One song was dedicated to a friend that drove all the way from Milwaukee just to see them play that night.
Cold Soda Club, a five-man band from Sheboygan, played with a high-energy pop-rock style.
They performed both originals and covers including classic songs like "Twist and Shout" by the Top Notes and made famous by The Beatles and "Come Together," also by The Beatles.
Clear Pioneer is a four-man rock band that featured a synth and lots of energy while performing both covers and original songs.
Senior Sarah Neubauer, despite not being at the event from the start, said she enjoyed Clear Pioneer the most.
"Can I say Clear Pioneer?" Neubauer said. "Cause I went to high school with the lead singer actually."
Neubauer said she liked how these music events are always very laid-back and that they are free for all UW Oshkosh students.
The last band, Antics, featured two DJs who used a computer and synth pad to play electronic and trap music.
Senior Jocelyn Hart said she also enjoyed Clear Pioneer the most out of all the bands.
"I liked the difference in music," Neubauer said. "There's a nice range; they all have different sounds so it's nice to hear the differences between them."
For more information on any of the bands that performed, check out their pages on Facebook.