Annual drag show promotes self-expression
[media-credit id=241 align="alignleft" width="193″]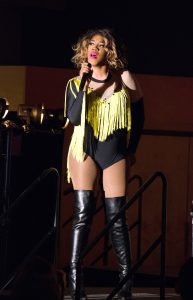 [/media-credit]
A variety of both student and professional drag show performers entertained an audience at UW Oshkosh's 17th annual Drag Show on Saturday in the Reeve Memorial Union Ballroom.
For some this was their first time performing in drag, while there were others who have performed for several years.
The night was hosted by returning drag queen Vivian Storm who got their start in drag at UWO seven years ago.
"I got my start here at UW Oshkosh at the Underground," Storm said. "There's so much love in the audience, so much willingness to participate, there's so much joy at UW Oshkosh. I really have an amazing time."
Storm said they are proud of all the student performers for how much they dedicate to their performances as well as UW Oshkosh for being so encouraging and accepting by hosting this event.
Storm also said anyone who is considering going into drag shows should go with something that feels right to them and should pick something that they love.
"Find your passion in it," Storm said. "Pick songs that you feel and that you live and that you love. Connection with people in the audience is so important, you're not just doing it for you, they come to see an entertainer."
This was freshman Alexandria Tridento's first performance as Andrew Genius but she said she has been wanting to pursue drag performance for several years.
"I have been wanting to do drag since I was 17," Tridento said. "I went to my first pride parade and I looked at my sister and said 'I want to do that,' and tonight my sister watched me do it."
Tridento enjoys the high and positive energy the performers bring, which spreads to the audience as well, making for an enjoyable night.
"It's not like 'oh, I messed up' and everyone critiques you on it," Tridento said. "It's everyone still had a good time, and you have a good time [because] everyone's having a good time."
Junior Danielle Shelley, performing as Svetlana, is also new to drag, having only been doing it for a month, but she said she still enjoys the energy she gets from performing.
"I like the energy that comes from dancing," Shelley said. "It's really freeing, and it makes you feel like a completely different person. It's just a whole different energy from anything else you could ever feel."
Junior Misha Pauly said she enjoyed seeing performances from all the people, especially the ones who are performing for the first time.
"For a lot of people this was their first chance to really experiment with how they feel about doing entertainment, performance, drag, any of that kind of stuff," Pauly said. "So I think that's the most exciting part for me is when people really get to learn more about themselves when they entertain."
Junior Lynn Schultz said she enjoyed the entire show but seeing one her friends perform and the different kind of entertainment provided at the drag show is what she enjoyed most.
"I got to see one of my best friends do a great burlesque routine and I'm so proud of her," she said. "It's beautiful, and it's a type of entertainment you don't get to see very often unless you go looking for it. So it's great that we get to showcase that on campus."