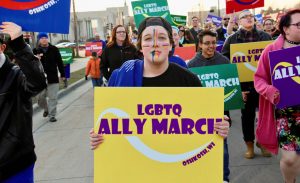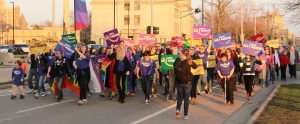 The UW Oshkosh community took part in the eighth annual LGBTQ Ally March Thursday, which recognized the importance of allies and brought participants together in solidarity.
Liz Cannon, Director of the LGBTQ Resource Center, said the center started holding the march because they wanted to have their own signature event.
"We began the event because we wanted something similar to pride events that happen in June with a focus on celebrating the LGBTQIA+ community, but something that also recognized the significant work that allies, both in the LGBTQIA+ community and outside of the community, do to actively change climate," Cannon said.
The center decided on a rally and march format to mimic other pride events but at the time they hadn't heard of any other march that included LGBTQ allies as a significant part of the event.
Cannon said there has been criticism from some students about the center's choice in doing an ally march as opposed to a pride march, however most of the responses they get are overwhelmingly positive.
"[Opposing students say the ally march] puts the focus on straight students and cisgender allies rather than on celebrating those in the LGBTQIA+ community," Cannon said. "There have been instances of people yelling derogatory comments out of resident hall windows as we have passed but there have been more examples of people cheering us on as we walk by."
The LGBTQ Ally March has always brought about large support from allies, with numbers being around 200 participants each year, with this year reaching an even higher number and more coverage.
"This year I think we broke 300," Cannon said. "We had two TV stations featuring the march, which is new."
Cannon said over the years, the format of the march hasn't changed much.
"We ended one march by coming back to Reeve Ballroom for a Speaker Series event featuring LGBTQ Activist Zach Wahls," Cannon said. "Other years we featured our Together We Make It Better videos at our rally in addition to our speakers."
The event this year began as usual with the resource fair, featuring organizations like the Women's Center, Christine Ann Domestic Abuse Services, UWO Counseling Center and new organization Q+ Unity.
Every year, the three featured speakers include a UWO faculty or staff member, a UWO student and a member of the Fox Valley community.
This year's speakers included Associate Professor of Counseling Dr. Amney Harper, a Women's Studies UWO 2012 graduate Ashley Lamers and the Diversity and Inclusion Director for the City of Appleton Kathy Flores.
Each of these women talked about the importance of being an ally, both from the outside and inside of the LGBTQIA+ community, by talking about their own experiences as well as events that have happened recently to the LBGTQIA+ community.
These three speeches brought on a strong energy that was carried out into the march that proceeded.
The march began on High Avenue with Q+ Unity leading the crowd with a large rainbow flag and chants demanding equality.
Many of these chants were printed out onto signs provided by the LGBTQ Resource Center along with handmade posters that said things such as "Live who you are, love who you are."
As the crowd marched through the streets, cars honked their horns in support, people came outside to take pictures and students in resident halls shouted down cheers of encouragement.
First-year graduate student Brooke Barrens who is both an ally and member of the LGBTQIA+ community, said she enjoyed being around people who support this cause.
"You never really get the chance to be surrounded by so many supportive people," Barrens said. "The people are always there, but just seeing members of the community and people that haven't really called themselves an ally and they're finally coming to support, especially now."
Freshman Alex Johnson, a member of the LGBTQ community, said he enjoyed how connected he felt to everyone else at the event.
"It creates a greater sense of community," Johnson said. "You realize you're not by yourself, you have all these people in support behind you."
Graduate student Nancy Harts said she has been an ally for most of her life, and she enjoyed the energy the event provided to those attending.
"I just like how it gets people revved up and hopefully makes them have some sort of action in the community, rather than just saying they're an ally," Harts said. "Never stop doing things like we did today."
Cannon said she would like to thank everyone who attended for carrying out the message of being an ally and supporting those in the LGBTQIA+ community.
"We must remember that 'ally' in its most significant form is a verb and a call to action," Cannon said. "And in our action, we always work with those we are supporting and follow their leadership."