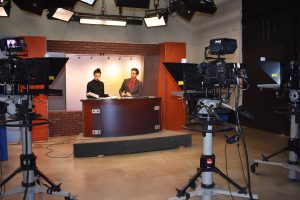 As UW Oshkosh continues into its second month of school, Titan TV announced its launch of a high definition channel that will be available to students around campus.
Director of Television Services Justine Stokes oversees all the television services on campus, including Titan TV, by helping students to manage the station but still giving them most of the control.
Stokes said Titan TV has been around for more than 40 years and has always been a standard cable access channel and, since 2008, they have tried to change how the content is distributed.
"We livestream sports, we livestream our news on YouTube on Fridays, we try to do a lot of community events," Stokes said. "That's kind of been my push."
Stokes said this new HD channel will meet quality standards students want to watch in 2017.
"Being a standard definition channel you're not up to quality," Stokes said. "We've been HD as a station internally and online for a while now, since 2015."
Stokes said they have tried to work with Spectrum to become HD, but it's a long process that involved Spectrum wanting to make these kinds of channels HD.
"In the meantime, we're like, we need to increase the quality for at least our campus if we can," Stokes said. "So our engineer, Bill Kerkhof, he cooked it all up. He talked to all the right people on campus and figured it out right away."
Stokes said the HD channel will be able to match what the content looks like when they are producing content for Titan TV, which will encourage students to watch and maybe even become involved.
"You're just hoping that the average student, when they're just hanging out in their dorms, might consider watching us a little bit more," Stokes said. "It might entice them to not just watch but come participate in the process."
Titan TV station manager Sean Becher has been involved with Titan TV for three years, and his role as manager involves responsibilities such as budgeting and checking with the content producers.
"Titan TV produces entirely original content," Becher said. "It's all student-produced, and so I have producing teams that make all of my shows. I lead all these producing teams and they all report to me about how their shows are doing."
Becher said most of the station is composed of radio/TV/film students but is open to all students to have more diversity in perspectives when creating.
"It helps to have more of a variety of viewpoints from different majors around the station," Becher said. "We definitely encourage everyone to be involved."
Becher said this new HD channel will provide more learning experiences and knowledge for the students.
"Having Titan TV in HD just intensifies the learning experience," Becher said. "It gives the students a place that looks more professional to show their work on. Plus, it also helps the station have a more professional image away from the university."
Becher said that he hopes this new HD channel will increase the number of viewers since it will be higher quality.
"We've been, around the station, pushing it promotionally wise, we're trying to get the word out there," Becher said. "We're hoping it does create awareness of our station as well as the interest in our station."
Becher said students got the idea to make Titan TV an HD- quality station a few years ago.
"It was actually two years ago, our station manager Adam Steinbach and last year's station manager Ashley Stewart who really spearheaded the idea to switch to HD," Becher said.
Director of Engineering Bill Kerkhof, was the main contributor to making this HD channel happen with the right technology.
Kerkhof said over the years that he's been with Titan TV there have been many changes with the technology used and the upgrade to HD equipment a couple years ago was one of the biggest.
"This last upgrade that we're talking about today, the channel into campus being in HD is kind of the cherry on top," Kerkhof said. "Our philosophy here has always been to bring to the students the technology that they'll see in the industry."
Kerkhof said the process of going into HD quality is an expensive endeavor in the industries of television and radio.
"We just want to share with the campus the capabilities and the quality that we have here," Kerkhof said. "And see that what the students are doing is of equal quality, as high quality as anything there is to see on our TV dial."
Kerkhof said he works together with the students to come up with ideas to improve the technology and production quality.
"A student that we had here last year was really involved in this area here, you see it's a lot of monitors and displays," Kerkhof said. "We were designing it and deciding what kind of monitors to get, what type of equipment to get to make it better. He was part of that discussion. He was part of that process."
Kerkhof said the HD channel will bring Titan TV up to the level of local, professional stations.
"I think we're comparable to a small-to-medium market television facility," Kerkhof said. "We even have some alumni that I spoke with just recently. He's working in a small market television station that isn't in HD so in those respects we're ahead of some of the commercial things that might be out there."
Station engineer Andrew Radig works with Kerkhof and the students to make sure the technology used operates well for Titan TV and for broadcast classes.
"We're using a lot of the broadcast equipment the classes are working with, so production equipment, video equipment that's high definition," Radig said. "We also have the transmission equipment here for Titan TV and that's really where the HD channel comes into play."
Radig said the transmission equipment is what makes it possible to send an HD signal out to campus, which is something Titan TV didn't have before this year.
"It's the ability for people to see the productions on Titan TV in their full quality, and before that wasn't capable," Radig said. "So really it enables people to take advantage of the full quality of what's there as before it was something they had to watch at a lower quality."