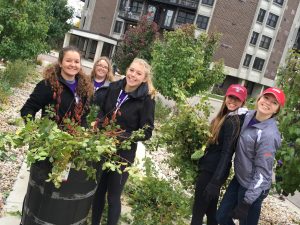 UW Oshkosh students volunteered in the community for the 18th semi-annual Hands on Oshkosh, helping local Oshkosh organizations and businesses on Saturday.
More than 260 students were in attendance to volunteer at 18 locations throughout Oshkosh. The Day by Day Warming Shelter was one of the locations for students.
The warming shelter helps serve homeless people in the Oshkosh area by providing meals and shelter during the cold months in the year according to Executive Director of Day by Day Warming Shelter Lorraine Yarbrough.
Yarbrough said this past weekend was perfect for Hands on Oshkosh to help out.
"This is kind of the last go through with cleaning before we open," Yarbrough said. "We have been trying to get organized before we open…We have served about 35,000 meals in the five years we have been in operation which come to about 30 meals a day, including our volunteers that eat with the people who come to the shelter."
Students helped clean and organize the shelter before it happened.
One of the volunteers, UWO junior Alaina Riedel, said she has been volunteering through Hands on Oshkosh since her freshman year.
Riedel said seeing the impact she can make on the community drives her to lend a hand.
"I love being a part of seeing how thankful people are when we volunteer and how appreciative they are of the help," Riedel said.
In the past, Riedel said she has volunteered for Day By Day Warming Shelter with the Christian group His House to serve meals.
Riedel said her experience working with Day By Day Warming Shelter is why she continues to volunteer at Hands on Oshkosh.
"I have served meals here [at Day by Day Warming Shelter] before, this is all really close to my heart," Riedel said. "It is nice to come back and help out again."
Riedel, along with others, were helping spray paint numbers on totes for people who come to the shelter to place their personal items in their own tote.
The totes serve as a safe, dry place for guests to keep their personal items while they stay at the shelter without having to worry about their personal items during their stay, according to Yarbrough.
Yarbrough said every person who comes through gets two totes for their items and they also offer overflow totes for people who are not staying at the shelter.
"It's all really part of those final touches before we open," Yarbrough said.
This was UWO student Megan Wilson's first year volunteering with Hands on Oshkosh. Wilson said she is motivated by the experience volunteering has offered her.
"I feel like it is super important for people to give back to the community because we live here," Wilson said. "I think you can learn a lot by people who are not in your central bubble."
Wilson said her experience working for the Day By Day Warming Shelter has been nice and she plans on coming back to volunteer.
"You find a lot of different types of people and there is a lot of different things to do," Wilson said. "There is something for anybody out there who wants to volunteer and it also makes you feel good because you are doing something good."
Yarbrough said that the Day By Day Warming Shelter is always looking for volunteers and donations throughout the year.
"Besides serving meals we also need people for hospitality, someone who can talk and spend some time with the guest," Yarbrough said.
Program Advisor Nicole Bellcorelli said despite the weather, Hands on Oshkosh was successful.
"Things went really well this year and we had a great turn out," Bellcorelli said. "The people getting off of the buses seemed to be having a great time."
According to Bellcorelli, Hands on Oshkosh has been a great opportunity for students to learn about the area and also help students with their careers.
"I have students who are excited to be selected to go to a place because they were already planning on volunteering whether it meets up with their interests or their major requirements," Bellcorelli said.
Riedel said she would encourage anyone who is thinking about helping out with Hands on Oshkosh to take part in the next one.
"Just grab a friend," Riedel said "It's a great thing to do with friends and to go out and just give volunteering a try.