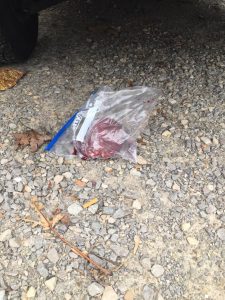 A heart in a plastic bag was left at the scene of a burglary at the off-campus home of three UW Oshkosh students on Tuesday morning.
Luke Johnson, Chris Rias and Corey Parks, who live on the 800 block of Franklin Street, said their house was burglarized between 7:30 and 8:30 a.m. but they did not see anything.
The residents said they were not sure what kind of heart it was, but Rias said he hoped it was not a human heart.
"It better be an animal heart, because if it's a real heart, I'm going to be real [scared]," Rias said. "Then I'm going to be like, 'Mom, I'm moving back home.'"
The Oshkosh Police Department took the heart to find out what kind it is. OPD was unavailable for comment for this story.
According to Rias, Johnson left the door unlocked when he left for work in the morning, and that's how the burglars got in.
Parks said he was asleep during the time of the burglary, and from what Rias told him, it sounds like his room might have been entered.
"I'm thinking that they might've tried to go in my room, since [Rias] said my door was cracked and my light was on," Parks said.
Parks said both his home and car were broken into, and residents' belongings were taken.
"They stole [Rias'] backpack, [Johnson's] speaker, they stole my headphones from my car which was broken into," Parks said.
Rias said their belongings, along with items they had never seen before, were scattered all over their yard, including some packaged sliced turkey meat.
Rias said he thought burglaries were pretty typical, but this one definitely stands apart from the average.
"Break-ins happen all the time, but they don't leave a heart," Rias said. "It was a bloody heart."
Johnson said he thought the heart could've been an item taken from another home and left outside of his randomly.
"Traditionally, like with hunters, if you shoot your first deer you have got to take a shot of blood from the heart," Johnson said.
Parks said plenty of strange things happen around UWO, but this incident was on another level of weirdness.
"Even with all the different things that have happened since we've been here, we had the stabbings and that stuff, but this just takes it to a whole new creep factor," Parks said.