UWO appoints Fletcher as Vice Chancellor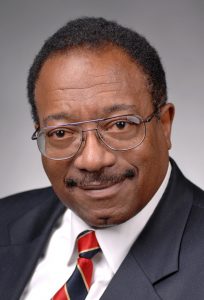 James Fletcher has been selected as the new Vice Chancellor of Administrative Services at UW Oshkosh and will begin his position on May 22. Fletcher previously served as vice president for finance and administration at Idaho State University from 2007 to 2016, where he worked with implemented program prioritization efforts, institutional finances through budget reductions and led a task force to look at performance-based budgets.
Fletcher served as vice chancellor for administration with the Texas A&M University System from 2001 until 2007. He also held similar positions at Morehouse College, University of Colorado Boulder and Howard University and with IBM and Unisys.
The vice chancellor of administrative services position oversees UWO's finances, leads the direction for the Administrative Services Division and reports directly to the chancellor. Fletcher said he is excited to join UWO and to help with the new budget ideas for the University.
"I'm especially excited for the opportunity to participate in the launch of the faculty-led initiative, new budget model for the University, which will help UW Oshkosh as well as set an example for other higher education institutions to follow," Fletcher said.
Fletcher said the new budget model will switch from the UW System incremental budgets to activity-based budgets.
"The UW system is looking to change their current budget system, which is based on the whole year and can change one or two percent every year, to an activity budget where it looks at the performance of the University," Fletcher said. "I will help assist with that transition."
Chancellor Andrew Leavitt said Fletcher's 25 years of experience in higher education will benefit UWO during the UW System budget changes.
"Jim brings incredible credentials and experience with him to UW Oshkosh," Leavitt said. "We are fortunate to add someone with his expertise to our talented leadership team, especially during this challenging time for our campus."
Leavitt said Fletcher was selected after a nationwide search that had come down to four candidates.
"I would like to thank the search and screen team," Leavitt said. "As well as the campus community, for their hard work and dedication to the hiring process."
Fletcher said he was impressed by his visit to UWO earlier this year.
"UWO is a strong leadership team being lead by Andrew Leavitt," Fletcher said. "Honestly, in all aspects of the administrative services there is really strong leadership, but what I was most impressed about UWO was by the students that I got to meet that go there and their leadership."
Fletcher said the difference between UWO and other schools drew him to apply for Vice Chancellor of Administrative Services.
"The University is unique, which was the first thing I noticed," Fletcher said. "When I was applying I noticed that 'workplace joy' was included in the Administrative Services description, which reflects what I think is an excellent and progressive university.