Students volunteer in community as part of semiannual Hands on Oshkosh event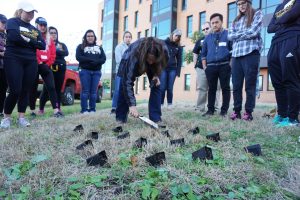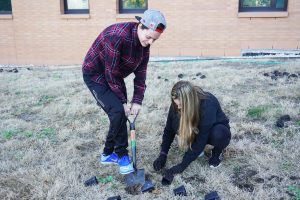 Over 200 students gathered across the Oshkosh community on Saturday to volunteer for Hands on Oshkosh, with 16 agencies in the community providing their help and resources.
These agencies included local elementary schools, churches, Winnebago Audubon Society, Court Tower, Beaming, Inc., Christine Ann, Clarity Care and Habitat for Humanity.
According to Nicole BellCorelli, Program Advisor for Campus and Civil Engagement, students took part in several projects, including working in compost piles, organizing libraries, making copies for teachers and painting playgrounds, to help agencies accomplish tasks they don't have enough time to do.
"Being the 18th year of Hands on Oshkosh, these agencies really rely on us to come out and help them," BellCorelli said. "We have at least three elementary schools that we have every time that will count on us to do some of that work."
Lisa Mick, Campus Grounds and Automotive Supervisor, said one project students took part in was gardening on campus to recover an area that had not seen life since winter outside Horizon Village.
"Planting these prairie plants is a very important contribution to our ecosystem because a lot of insects and caterpillars use these plants to eat and get nutrients," Mick said.
BellCorelli said Hands on Oshkosh is a great way for students to show the community what they have to offer.
"A lot of our students aren't from Oshkosh, so they get an opportunity to go places they've never been and see services this community offers and become part of it," BellCorelli said. "It also shows our community that we are giving back as well. Sometimes college students get certain stereotypes added to them, so it's nice for people to see the hard work our students are doing."
Students offer their time to volunteer for a number of reasons. UWO student Jennifer Flores said she participates because it helps her gain experience in her field that she can add to her resume.
"With being a social work major, I'll really get a chance to see how people act as a community and being a part of that will really help me to prepare for future jobs," Flores said.
Student Support Services, SSS, an organization that helps first-generation college students and/or students whose families have limited income to afford college, volunteered their time at the event as well.
"When I was an SSS student, this was the first event that we did together as a group so it really helped me to meet other first-generation freshmen and helped me to warm up to this campus," UWO student Katelynn Wulff said.
Fernando Orozco said he decided to become a Learning Group Leader through SSS because he feels that it is important to get students out into the community to make a difference through events like Hands on Oshkosh.
"This event really creates a sense of community, having everyone come together on one specific day because we all have such busy lives and busy schedules, so it's nice to be able to plan ahead a couple weeks and do something we can all take part in," Orozco said.