Art dept. creates bowls to fight hunger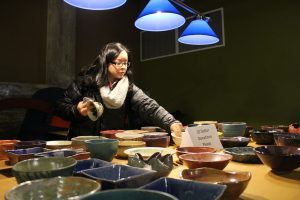 Empty Bowls kicked off its annual event inviting UW Oshkosh students, faculty and community members to help combat hunger problems on Friday.
The international grassroots movement was created by the Imagine Render Group in an effort to fight problems with hunger and food insecurity.
Empty Bowls works by bringing together local pottery makers, or the art department in UWO's case, to create bowls that guests can receive in exchange for a cash donation.
Chris Annis, the program advisor for the UWO Diversity and Inclusion Programs, joined the event crew for his first Empty Bowls this year.
"We collaborated with the art department, and students made ceramic bowls and donated them," Annis said. "All proceeds from the bowls are going to the Day By Day warming shelter here in Oshkosh."
Annis said the donation covered a meal for each person along with the bowl and that seeing all the different people interested makes this event even more special.
"With every donation, every $5 or $10 donation, they get soup, bread and then cake for Veteran's Day," Annis said. "Seeing everybody come together, all staff, students, faculty coming together for a good purpose and raising awareness that there are people having problems with hunger really makes it worth it."
Graduate student Brooke Berrens said she has been coming every year since Empty Bowls began because it's an easy way to show your support for students and locals in Oshkosh.
"I've been doing it every year that they have put it on, so every year I've donated and gotten a bowl, you know just doing my part," Berrens said.
Stephanie Rolain-Jacobs, a UWO communication professor, used the event to not only help out the community, but as bonding time for her and her students.
"I know about it because I teach a Quest I course here and this is one of the events that we decided for some of our classes that we would go to," Rolain-Jacobs said. "This is part of our [University Studies Program] class. Students were interested in it and so I came and I ran into one of my students here and we had lunch."
Rolain-Jacobs said she enjoyed being able to show her support for the artists who provided the bowls for the event as well as seeing all of her students.
"Having lunch with my students is my favorite part, but I also like that you can purchase a bowl from the art department and support people from this community," Rolain-Jacobs said. "I really enjoy talking to Peyton [Moder]."
UWO freshman Peyton Moder said in addition to coming for her Quest I class, she enjoyed meeting new people as well as the ceramic bowls students donated.
"I'm in a Quest I class and this was one of our required events to come to, but even if I wasn't required I think it's awesome to support the community, and the bowls are really beautiful, so that's a plus," Moder said. "I love being able to come pick out the bowls; I actually picked out two that I can use as Christmas presents, as well as meeting other people who support the same causes as you."
Berrens said seeing the community come out year after year has been her favorite part.
"There's so many people that come out to support the cause," Berrens said. "They donate what they can, and just that sense of community and coming together for a common purpose is really cool."
UWO graduate student Edrose Heiny said her favorite part of Empty Bowls is the whole aspect of giving back to the community.
"I just think it's a good cause and what they're doing," Heiny said. "You don't even have to take a bowl, you can just donate and then see how you're all coming together to make a difference."