UW Oshkosh Chancellor Andrew Leavitt and Provost Edwin Martini addressed the impact of staff layoffs and the university's restructuring plans moving forward during a town hall on Nov. 2.
The university ended fiscal year 2023 with $15.7 million of debt, Leavitt said during the town hall. In that year, UWO brought in more than $43 million and used its reserves to help cover its expenses.
The university is estimated to bring in roughly the same amount of money this year, but it has smaller reserves to cover its $61 million worth of expenses. The furloughs, cutbacks, voluntary retirement program and layoffs were implemented to help cover the $18 million difference.
"We will still be left with a deficit at the end of this year," he said. "While that's not a good thing, it's also not an existential threat to us. … We can endure this for a year or two if we have to."
Leavitt discussed past reductions the university has faced and traced the current situation back to the COVID-19 pandemic.
He said that UWO was in good financial shape when COVID-19 hit.
"That's not to say that we still didn't have this deficit, but we had plenty of cash on hand," Leavitt said. "At the same time, we continued to make significant investments in enrollment management."
Leavitt said that after COVID-19, UWO experienced two successive falls of steep reductions in student enrollment, which set the university back.
"But when we came back from COVID, we had two successive falls of really steep reductions in student enrollment, which took us completely out of the game," he said. "I probably should have acted one year earlier in doing this and what we did now. But I would also argue that I would have had a similar amount of concern and criticism for the fact that we would be laying people off. That's the only way to fix this."
Extent of the layoffs
Leavitt said that about 40 members from across the institution were assembled to handle the layoff process. They worked eight hours a day for around a week, analyzing benchmark data and what other schools were doing.
"Decisions were made based upon the functionality of the position," he said. "So it wasn't people, it was the positions that were directly evaluated. And there were some criteria that were used in terms of whether a position needed to stay or whether it could be subject to layoffs."
Leavitt said that these criteria included the needs of the institution to deliver services, the relative skills, knowledge and expertise of the individuals and their length of service to the university.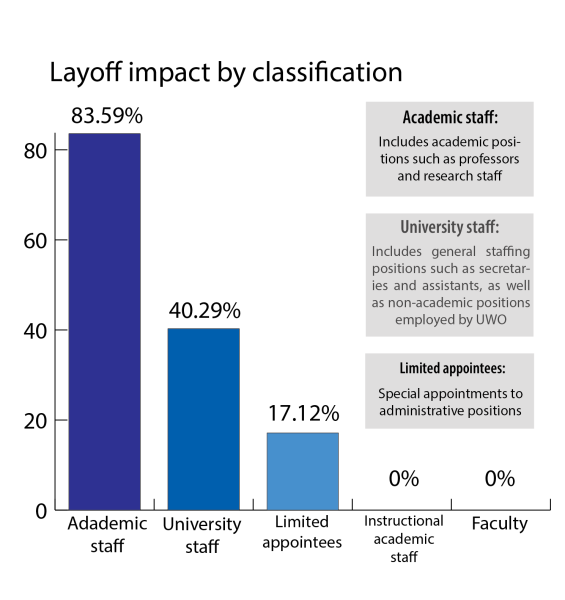 He added that there was extensive legal review from the Universities of Wisconsin, which paid a consultant to help analyze the situation. Throughout the process, faculty and instructional academic staff (IAS) were not subject to layoff examinations, though Martini clarified that contracts for certain IAS may not be renewed.
Leavitt also highlighted the extent of the layoffs across the university during the town hall.
The cooperative academic partnership program experienced a reduction of 4 full-time employees (FTE).
The libraries experienced a 2.5 FTE reduction, and the Division of Online and Continuing Education saw a 17.9 FTE reduction. Continuing education and community programming are also being eliminated.
The director position of the Center for Excellence in Teaching and Learning was eliminated, and the Testing Center saw a 2.0 FTE reduction.
Martini said that they are "explicitly prioritizing testing accommodations for students who have ADA accommodations." Classroom testing through the testing center will no longer be available starting in the spring 2024 semester.
The Office of International Education experienced a 3 net FTE reduction, although a new position will be added to help bolster it.
Martini said that despite the cuts, study abroad options will still be available for students, including honors college study abroad trips.
"There are and still will be study abroad options available," he said. "We will continue to lean on external partnerships, but it will impact our ability to do customized, faculty-led study abroad programs."
The Undergraduate Advising Resource Center experienced a 5.0 FTE reduction and the University Studies Program (USP) a 3.3 FTE reduction. Martini said that, with the way USP is currently structured, "we cannot afford [it]."
The Writing Center experienced a 0.8 FTE reduction and will be moving into the English department.
The UWO police department and Parking Services saw a 4 FTE reduction, but will continue with 24/7/365 coverage.
The whole of UWO's athletic programs experienced a 1 FTE reduction.
The university will also stop the biogas program at the end of the year, and the Sustainability Institute for Regional Transformations (SIRT) is being partially hibernated, meaning that its base budget allocations are being eliminated.
The College of Business experienced a 4 FTE reduction in administrative positions, the College of Education and Human Services a 6 FTE reduction, the College of Letters and Science a 23.5 FTE position reduction and the College of Nursing saw no position reduction.
The chancellor's office experienced a reduction of 9 FTE from its 55.53 FTE — about a 16% cut, and the position of assistant chancellor for access campuses will be eliminated. The position is currently vacant after Martin Rudd died unexpectedly on Oct. 14.
Restructuring and moving forward
While the university is still formatting restructuring plans, Martini said that Reeve Memorial Union and Student Recreation and Wellness Center staff will be merged. Residence Life and Dining will also be merged, as well as Project Success — which works with students who have language-based learning disabilities — and the accessibility center.
Martini also said that most of the navigator positions have been eliminated. Student Success navigators help first-year students by reaching out to students, answering questions and providing resources. Martini said that the two remaining navigators will be moved to the new student and family program and will work on a "peer-based mentoring model."
Leavitt added that he doesn't intend on continuing funding for the Gruenhagen Conference Center, which serves as a conference building and residence hall, given its age.
He said he intends to "methodically replace [residence] halls" starting next fall, and that he wants Gruenhagen to be torn down to make room for a new building.
Leavitt and Martini also addressed some concerns and rumors that have been permeating around campus, including the possibility of majors being removed from UWO's offerings.
While majors have been eliminated before, Martini said UWO is committed and obligated to continue teaching majors that students are enrolled in, and that students shouldn't be worried about their majors no longer being offered.
"Changes are coming, but if you are in a major now, you are getting a degree in that major," he said.
Leavitt also said that "we have no plans at this point … to cut programs" and highlighted the need to "conservatively grow enrollment."
But as the university navigates its deficit, things will have to be adjusted, Martini said.
"This is not a perfect plan," he said. "There will absolutely be things that we have not anticipated … so we will need to adjust as we go."
Despite being in the midst of change, Martini said he is optimistic for the future of the university.
"We are getting through the worst of it," he said. "But already, within the last two weeks, we have uncovered new ways of doing things in small areas. We will continue to discover new and better ways of doing things moving forward. Will we look different as an institution? Yes. But as we envision what UWO 2.0 will look like … I am convinced that UWO will be better and stronger on the other side."