It wasn't easy.  
Woojin (Jin) Jung, 20, remembers what it was like when he first came to UW Oshkosh in August 2022. As an international student from South Korea, he left home, his language, customs and most of his belongings.  
His first year here at UWO was hard as he dealt with culture shock. He knew that he had to get involved in clubs, or he wouldn't meet new people or friends.  
"The various school events, clubs and student organizations that I got involved with, as well as Titan Nights, provided great ways to build bonds with people," Jung said.   
Jung isn't the only one dealing with culture shock on the UWO campus. In fact, this semester Oshkosh is home to 191 international students, up 18.6% or 30 international students from the fall 2022 semester and 28.2% or 42
international students from the fall 2021 semester. Since the fall 2019 semester, international students at UWO have represented 44 countries, with the most common countries being China, South Korea and Japan, according to Jared Evans, assistant director of UWO's International Student Services.  
Before Titan Takeoff, a new student and family orientation program held before each semester's start, UW Oshkosh holds a similar event for new international students. There, international students meet mentors and other international students.  
Jung said, "Clubs and communities like International Students Association (ISA) allowed me to have opportunities to meet new people."  
Nuechi Lee, a friend of Jung's, said he appreciates Jin's willingness and ability to try out clubs and news activities.   
Lee said, "He is the president of ISA and is a tutor at the tutoring center. He does a lot of things on campus to help students."   
Emily Brooke, New Student and Family Program Manager, said that it is a "huge feat" for an underclassman like Jin to be president of ISA.  
Brooke said, "I truly feel like he could accomplish any goal he sets his mind to, no challenge is too big."  
Jung said one of the biggest reasons he joined ISA was to guide and assist other international students since he thought he had enough experiences to help them adapt to life in America.  
"International students suffer from culture shock," Jung said. "But I thought by telling them about my experiences and guiding them on how I got used to Oshkosh," that they would adapt easier. I also really enjoy getting to know new people."  
Duwon (Alex) Kang, an international student, said that Jin gave him helpful advice and just encouraging words to be here at Oshkosh.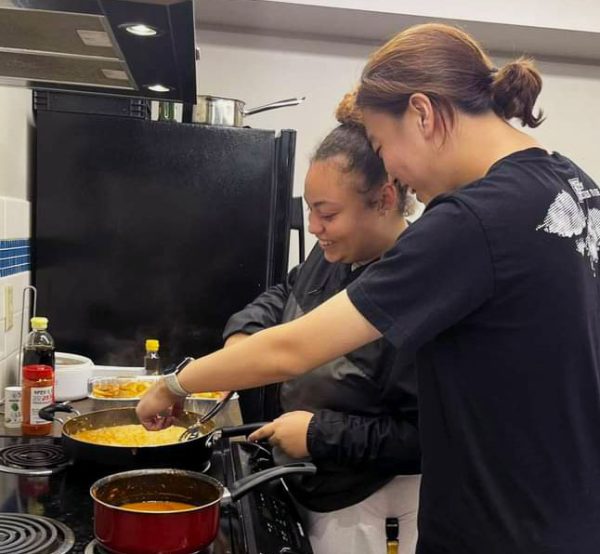 Kang said, "He gave me advice for professors I should take, tutors me in my math, and he is just a funny person."  
Jung is friendly to all who know him, Lee said.  
 "Jin thinks he is an introverted person, but he always knows how to welcome people and make sure they feel comfortable and include them in events," Lee said.  
A second-year student who is majoring in statistics, Jung said he decided to apply to UW Oshkosh primarily for financial and academic reasons. He said UWO provides lower academic barriers such as only needing his high school GPA and Test of English as a Foreign Language (TOEFL) score.  
 "Since I am an international student, I have to pay the international student rate, which is different than a regular student," he said.  
However, Jung found one perk about Oshkosh's location that he didn't expect until he arrived. That is, UW Oshkosh has the Fox River and Lake Winnebago nearby, which allows him  to walk to destress, as it also reminds him of home a little.   
"Even back home, I would go to the mountains or walk by the ocean to destress from studies," he said.  
Oshkosh's weather also played a role in Jung's decision to attend college here.  
 "I hate hot weather and I enjoy the winter when it is not windy," he said. The weather is not too cold. "It's just the wind."   
"Jung has become a great friend who always makes sure to walk with you when it's late at night … or ask if I need help with anything," Lee said.