Phoenix Bridegroom visits Oshkosh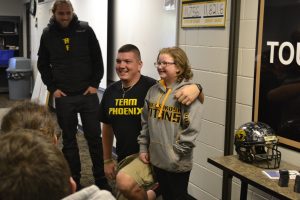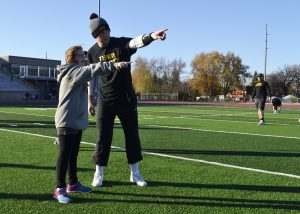 The Oshkosh community and the University joined forces to help bring Phoenix Bridegroom and Brett Kasper together after the junior quarterback donated his bone marrow to help save the little girl's life two years ago.
Back in 2014, a partnership was formed between the Oshkosh branch of Be the Match and the football team. The branch's community engagement representative, Kelli VanderWielen, and UWO football head coach Pat Cerroni started a life-changing conversation for both parties involved.
When Cerroni was told of the registry, he said he was unsure of how the team would be able to become involved in its purpose.
"I knew about the athletes that wear pink for breast cancer and I just wanted to help [Kelli] out," Cerroni said. "I said that our team will help you get these people registered. I did not really know what we were doing. It is important to know that when we first started, I just thought that they wanted people on the registry."
Phoenix's journey began in October of 2011 when her admittance into the hospital led to testing and the eventual diagnosis of acute lymphoblastic leukemia. She went through three years of treatment until she was fully cleared of any cancer in June 2014.
Just a few months before Phoenix was announced cancer-free, Kasper was in his freshman year of college. He joined the bone marrow registry in spring 2014 along with the vast majority of his football teammates through an on-campus drive.
Later that year, Kasper was notified of the potential match and that further testing was necessary to confirm the results.
"I knew what I was getting involved with, and I told myself that from day one I was not going to back away from it," Kasper said. "Once they called me and told me I was going to be a match and put the name and age to the recipient, it made it really real and that is when I told myself that there is no way that I can back away."
The notification Kasper received was about Phoenix, who learned her cancer had returned just four months before receiving the good news.
Phoenix's mother, Tammy Bridegroom, explained that a stem cell transplant would be the only cure for her daughter this time around.
"It was near the end of October of 2014 that we found out that her cancer had come back," Tammy said. "Immediately, my husband, myself and our oldest daughter were tested and we were hoping that one of us would be the match for her so that we could move forward as quickly as possible. That did not happen. We won the lottery by having someone that is not only on the list but was so willing to move forward in our time frame."
Kasper went through with the operation. Once his surgery concluded, Phoenix was able to receive the bone marrow transplant to save her life. She has been cancer-free since receiving the donation.
There is a one-year waiting period recipients and donors must wait until any sort of contact can be established.
Throughout the entire process, the Bridegrooms did not expect this type of community involvement during their meeting and Tammy said they have been astonished by the hospitality of everyone involved.
"When we first agreed that we would like to meet our donor, we assumed that we would be meeting with one person, saying thank you," Tammy said. "They have rolled out the red carpet and we have just felt so loved. This is an amazing community of people, and we could not have imagined that the donor that we would be meeting would be a part of something so giant and it has just been a great experience."
Early in the morning, both the Bridegrooms and Kasper weren't sure how they were going to act when they finally met. As soon as Kasper met Phoenix though, he said said it felt like the two families had known each other forever before even meeting one another.
"It worked out really well," Kasper said. "We both kind of just said it when we both got in the room and Phoenix kind of just made it feel like we have known each other for years now, so it was a really comforting experience. It was awesome and this was able to make this story full circle, which was my hope ever since I joined the registry list."
Phoenix and her parents toured Oshkosh with the Kaspers on their first day in Wisconsin. The Bridegrooms and Kaspers then attended the press conference, had the opportunity to meet with the football team and did some Pokémon hunting to end the day.
The Bridegrooms also joined the team on the field during their practice with Brett introducing his teammates to Phoenix as they walked around the field.
Phoenix was given a Pandora bracelet from the seniors on the team, through contributions from the community. The Bridegrooms felt that with this situation, they should be the ones going to the extent that Oshkosh has for their visit, not the other way around.
"We should be the ones coming here and making you feel like kings because of what you have done for us," Phoenix's dad John Bridegroom said. "We won the lottery and our prize is this little girl that is able to be the star in our world. We came up here to say thank you and you are all just treating us amazing. Thank you so much and we are excited for the time that we have here, even after we go home."
UWO is one of over 100 campuses in the U.S. that hosts bone morrow drives with Be The Match. VanderWielen, who is also a representative for the Community Blood Center, said to be able to come together for a purpose like this is what defines their purpose.
"This journey has been just so incredible," VanderWielen said. "We are so grateful for all of the support from Coach Cerroni, the team, the university [and] the community, [and] it has been such an awesome experience. What a perfect place to start is with a football team and with a coach who is determined to get those men on the registry to help save those lives."
According to Cerroni, around 80 percent of the football team is currently signed up for the bone marrow registry and Kasper said this situation has shown him that life outside of football can also take precedence.
"The biggest thing is taking a step back from everyday life," Kasper said. "Being an athlete, obviously you are always on the go with school and practice and everything else, so it really makes you take a step back and take a bigger look at what the real meaning is in life. There is a bigger picture to everything and that has really made me take a step back and realize that [even though] we have a game Saturday, there is a bigger picture to this. She has really brought that out in me this week."
When Phoenix heard someone actually volunteered for this, she said thank you for her survival, cooperation and support.
"He really answered my prayer," Phoenix said. "I am going to tell my friends that I had a blast in Oshkosh and that I met a guy that is super awesome, a quarterback and that might be related to me. It really blows my mind that we are related in a way through blood type or through something that really brings us together."
Brett predicates his willingness to sign up and donate through the registry comes from the people that have been his biggest supporters since day one, his parents. He said through both his coach and parent's emphasis, he was able to find the will to follow through and help Phoenix in her time of need.
"My parents have been the biggest supporting cast that I have had since day one," Kasper said. "I think that it is a reflection of the values and morals that they have instilled in me and making this decision and going through with the whole thing, so thanks to them, as well as Coach and the team for their support and efforts too. Once you are on the list, you are committed to it. This is something that I did not really think of until I actually got the call. This is something [good] to join as a team, especially with Coach Cerroni pushing for us to get on the registry."
Through the entire process, starting when VanderWielen and Cerroni began talking about the team's role with the Community Blood Center, UWO's football coach has stressed the importance of consistency and sticking to signing up for the registry to the team.
The football program won the Volunteerism Award a year ago from Be The Match so backing down from the challenge if matched up with someone who needs a donation is not what Cerroni believes in.
"We were up in Minneapolis at their convention and to hear the stories of the people that died because the donors refused to donate, that hits hard," Cerroni said. "You really have to be committed to it and your job of sending that message to the team. To make it clear, you are going to want to know how many guys on your team are on the registry, because we are very particular who [is on it]. We tell them [they] have to be committed to it [and that] you cannot back out of it."
Kasper said this bond will always have Oshkosh ties and he said the bond will never end.
"That bond was fused today when we walked in the room," Kasper said. "There was a weird tension, but once we gave each other a hug we felt like what is next, like we have been friends for a couple of years now, although this is the first day that we have actually met. It definitely is special bond that we feel with each other."