Women's basketball wins WIAC title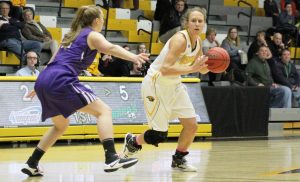 The University of Wisconsin Oshkosh women's basketball team took to the road for their first game of the week and won against UW-Platteville, 91-71. In the second game of the week they faced off against UW-Whitewater and secured the regular season championship by beating their rival, 59-58.
This win, coupled with the conference records of both UWO and Whitewater, pushed Oshkosh to their first regular season championship title since 1999. This also marks the 11th championship for the Titans and their seventh outright title.
Senior guard Taylor Schmidt led the Titans in scoring with 15 points, including three 3-pointers. Her four rebounds tied for third-highest in the game, and she only turned the ball over once.
Schmidt said the team has followed their goals of taking every task individually throughout the season.
"Our goal on a daily basis is just one day at a time, one game at a time, one practice at a time," Schmidt said. "I think if we use that mentality we are going to get pretty far in the playoffs."
Other contributors for UWO included senior forward Alex Richard, who had 12 points and three rebounds, and sophomore forward Isabella Samuels, who had 10 points and four rebounds.
Head coach Brad Fischer said the team has become well-rounded as the season has progressed, making the team more efficient in games.
"That is how we are built, and it is hard to look at our stat sheet and be one hundred percent sure about who to guard," Fischer said. "Taylor and Eliza lead us, but when you are only getting 11 per game from those two, you have to get another 40 points from everyone else. We have done a good job of being able to [figure] out night to night who that is. Jaimee Pitt was a big part of that tonight, and we do not have to rely on the same people to be good every night."
Senior guard Morgan Kokta had four points, three rebounds and three assists, and Pitt continued her hot streak by posting five points, seven rebounds and three steals. Sophomore forward Melanie Schneider had an effective 10 minutes, posting seven points on two-of-four shooting.
This victory gave the Titans their first outright title since 1999, something that Fischer believes this current squad will always be able to have.
"To be the first group to do it since 1999, and for as good as our program has been, it is a long gap in time between outright titles," Fischer said. "Their legacy is cemented as one of the best classes that has ever been here. I think we have secured another trip to the NCAA tournament tonight too, and I cannot say enough about what those four seniors mean, and the group in general, with how hard they have worked to make this happen."
With one game left, the team currently holds a 22-2 record. Their next game, Senior Night against UW-Stout, is a game Richard said the team needs to take advantage of to remain successful.
"We need to finish with Stout, so we need to show them that we are the conference champs," Richard said. "We feel like we need to prove that we are the best, and going forward we want to get the conference tournament championship."
While there were plenty of ways to describe the championship victory, Fischer said the team needs to stay focused in order to remain successful.
"This is a great way, I would say to go out, but we have more games to play," Fischer said. "Regardless of what happens now, they are going to have this on their record."
The Titans' road win against the Pioneers was their highest scoring output of the season and matched their season high in point margin. UWO had three quarters in which they put up 20 points or more, including a 34-point first quarter to break open the contest.
On her way to being named one of the UWO Athletes of the Week, Pitt scored 18 points off the bench to lead the Titans to victory. That was Pitt's season high and marked her third game of the season scoring in double figures.
The bench provided the majority of the scoring on Saturday, as 55 of the 91 points came from the reserve unit. Other than Pitt, Samuels was in double figures with 10 points, including seven shots earned at the charity stripe.
Freshman guard Kylie Moe provided nine points on three-of-five shooting, senior forward Madeline Staples paired six rebounds and six points together and freshman guard Olivia Campbell chipped in five points on a perfect shooting performance, knocking down a 3-pointer and another shot inside the arc.
For the starters, only senior forward Eliza Campbell was in double figures with 11 points. Her six free throw attempts ranked second on the team, and she also brought down three rebounds, one assist and one steal.
Schmidt again filled the stat sheet, scoring nine points while dishing out two assists and bringing down five rebounds. Currently, Schmidt is averaging the most points per game in her fourth season as a Titan, even though she is averaging the least amount of minutes per game in her four-year career so far.
As for the other starters, Kokta put up two points, two rebounds and one assist, junior guard Emma Melotik had eight points, including two 3-pointers, and one assist and Richard scored six points, brought down five rebounds and led the team with three steals.
In their highest scoring quarter of the game, the Titans opened the game by putting up 34 points, led by seven of Schmidt's nine points. She shot an effective three-of-five from the field in the first eight minutes, and also grabbed three of her rebounds in that period.
Pitt, Moe and Samuels combined for 14 of the 34 points in the quarter, with both Pitt and Moe knocking down 3-pointers of their own.
Fischer said the team, specifically the group of seniors, has stayed true to certain goals that the team established at the beginning of the season.
"We just want to be the best team that we can be when the conference tournament starts," Fischer said. "It has been what we have talked about the last five years, and we feel that if we can get close to our fullest potential, then some of this stuff is going to happen."
The second quarter was more of the same for the Titans, despite the team scoring ten less points than the previous quarter. Their 24 points this quarter only fell three points short of the points scored by the Pioneers in the entire first half.
Pitt took over this quarter for UWO, scoring 10 of her 18 in this period. She took three shots from behind the arc, making all three and earning a trip to the free throw line, where she made her only attempt of the quarter.
Moe also contributed to the bench production, chipping in four points on two-of-three shooting. Olivia Campbell (two points), Samuels and sophomore guard Chloe Pustina (one point each) all pitched in scoring-wise to wind down the first half.
Coming out of the half, UWO had their lowest scoring total of the game with 13 points in the third quarter. This marked the first of two consecutive quarters UWO would be outscored to end the game, even though the final score did not dictate a change in momentum.
Samuels contributed five points on two shots and one made free throw, Pitt made a 3-point jumper, Richard contributed a basket, Melotik made a basket and Eliza Campbell made a free throw to cap off the 13-point third period.
In the fourth, UWO put up 20 points, which was one point fewer than what Platteville put up in the final quarter. Melotik, Kokta and Richard combined for seven points, with Melotik's three points coming off a shot beyond the arc.
The bench provided the majority of scoring this quarter, as six points from Staples, coupled with three from Olivia Campbell and two from Pustina and Schneider each, helped finish out the contest for Oshkosh and bring them their 21st win on the season. The 21 regular season victories ranks as the third-most for Fischer ever since he became head coach in 2013.
Fischer said the idea of winning the regular season championship crossed the team's mind, but ultimately they understood that in order to remain successful, the team needed to keep true to themselves.
"I think that this class and this group is a testament to that, because I thought we were really good to start the year. Then teams started coming at us, and we had to adjust, and I think we are playing really good basketball," Fischer said. "To get through our league and do as well as we did on the road and go through basically seven weeks of dogfights in our league, this is really sweet. We started to talk about it as it got closer, because it was something new to shoot for."
The team attempts to win their last home game on Senior Night Saturday against UW-Stout.