Seniors say goodbye as UWO loses in Sweet 16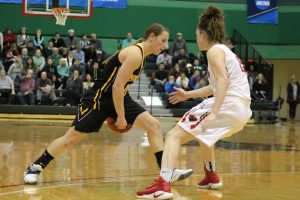 A normal Division III college basketball season consists of, at minimum, 25 games. By doing the math, it is determined that in one player's college career, he or she has the ability to play in at least 100 games.
Looking at the success the University of Wisconsin Oshkosh women's basketball team has had, understanding that this graduating class has won 98 games in its entirety is nothing short of remarkable. This number speaks not only to the success of the team but of the program itself.
The four members comprising the first class of graduates head coach Brad Fischer recruited in his time at UWO are three starters and one valued bench contributor: guards Taylor Schmidt and Morgan Kokta and forwards Alex Richard and Madeline Staples. In their own ways, each of these four players have demonstrated during their illustrious careers what it means to be a Titan.
Flashing back to when Fischer was hot on the recruiting trails, he decided these four players had shown what it meant to be a Titan even before they had officially committed. The time and effort he put into making each and every member of the senior class feel welcomed in Oshkosh is something Staples said was noticed from the beginning.
"[During] my conversation with Coach Fischer, he made it clear that he wanted to be competitive enough to reach the Final Four," Staples said. "In conversations with other coaches, that really was not a part of the conversations, it was not on the table. So me having the opportunity to be a part of a team that can actually be in the gym and talk about that, it was a big-time goal. It was something that was appealing to me; it was good to have."
Staples' high school alma mater is Middleton High School, home of the Cardinals, located near Lake Mendota and hosts roughly 2,000 students.
Despite only playing in two total games throughout her first two years of high school, Staples' playing career embodies what Titans are built upon: dedication and development.
During every year of her career there, the Middleton girls' team earned a berth in either the semifinals, quarterfinals or the championship game. Staples' junior year was when the Cardinals took second place in the entire state by losing in the championship contest, which was followed up the next year with a 21-6 season record and a loss in the semifinal round.
In her junior year and into her senior year, Staples gained a larger role with the Cardinals, increasing her playing time and game averages. Her statistical splits of 5.1 points per game almost doubled in her senior year, where she averaged 10.1 points per game.
In the semifinal contest against Milwaukee King, Staples put up a season and career high of 24 points, and put together an outstanding performance by earning 10 defensive rebounds in the defeat.
The differences between competing in high school and college basketball are drastic, as the areas of competitiveness and dedication differ on many levels. Making that type of transition is hard for players, but Staples said Fischer was a huge component in that transition.
"I felt so at home already before I was even on campus, and I felt like I had support," Staples said. "I remember when I committed, within the hour everyone on the team was congratulating me, texting me. That all comes from him, and he does such a good job of making sure everyone feels right from the start, like day one you say yes to Oshkosh, you have a family right away. Feeling that support was huge."
As another member of the senior class, Taylor Schmidt has been through it all with her fellow Titans, and that bond is something that brought her to Oshkosh in the beginning.
"Coach Fischer put a lot of time into me, and he made sure that he had assistant coaches at every one of my games," Schmidt said. "Just knowing that the team I was going to play for was going to be there from the lows to the highs is kind of what brought me here."
Schmidt's high school playing career speaks volumes to the type of player she has been during her four years at UWO. In her career at Algoma, she played on many highly successful Wolves teams.
In her first year, she earned playing time in 16 games and averaged just under five points a game, respectable numbers for a freshman coming in and playing at the varsity level. As a sophomore, she became one of the scoring leaders for the Wolves, putting up 13.3 points per game.
Schmidt's sophomore season brought her the first taste of Wisconsin Interscholastic Athletic Association semifinal playoffs as she helped lead Algoma to the championship contest, where they eventually fell and earned second place in the state.
Schmidt's junior campaign was a success, as the Wolves earned a 23-1 regular season record and earned the top seed in the second sectional region of the playoffs.
Unfortunately, Algoma did not make it out of the first round of sectionals, ending the Wolves' season and pushing on to the final year of Schmidt's high school career.
In the 2012-13 season, Schmidt was finally able to bring home the gold, as Algoma defeated Colfax 46-30. Schmidt went for seven points in the game, playing a game-high 31 minutes in the victory.
Her game averages dipped a bit, as she averaged 9.4 points per contest while only playing in 18 games. In her entire career, Schmidt came close to eclipsing the 1,000-point mark for Algoma, putting up 950.
The idea of the team being another family is an aspect that was evident to Schmidt from the beginning, and it helped make the decision to come to Oshkosh easier.
"Just having that sense of family, knowing that you would have a team supporting you," Schmidt said. "I come from a small school and being close-knit together is an important part of my life."
A member of the family that also had played her last game with UWO is Morgan Kokta, who said the transition from high school to Oshkosh was made easier by the environment she became a part of.
"Being able to transition from being a senior in high school to a freshman in college, I felt good coming in freshman year," Kokta said. "I wanted to put in the work and play some minutes."
Kokta came to Oshkosh from Oak Creek, where her three-year playing career stood out to Fischer. Throughout Kokta's career the Knights enjoyed consistent success.
The sophomore year campaign for Kokta, her first year playing for Oak Creek, was consistent. She averaged six points a game, shot 35 percent from the field and totaled 149 points.
The Knights earned a 19-6 record in Kokta's first year, and Oak Creek earned a two seed and made it to the sectional finals before falling by eleven points. Kokta had four points on two-of-five shooting and an assist in the loss.
Junior year, the Knights went 18-7, and Kokta improved her scoring average to 7.9 points per game. Her game-high of 19 points helped start her first 200-point season.
Oak Creek made it to the sectional final in Kokta's junior year but was unable to advance to become one of the final four teams remaining, losing to Milwaukee King.
In her senior year, Kokta was again consistent, averaging 7.4 points per contest. The Knights went on a 23-game winning streak that stretched into the playoffs, with the run eventually ending at the hands of Franklin in the first round of sectionals.
The squad finished with a 23-2 record on the season, and Kokta put an exclamation point on the year by scoring 186 points in 25 games.
To round out the high school careers of the graduating players, Alex Richard was a fellow Packerland conference member with Taylor Schmidt. Richard attended Kewaunee High School and was a teammate of a former Titan women's basketball player, Marissa Selner.
In Richard's freshman year, she played a considerable amount of minutes for the Storm. She averaged 5.5 points per game and put up 111 in the season, fourth-highest on the team.
The Storm earned a berth in the WIAA tournament in Richard's first year, but Kewaunee only won one game before being ousted. However, in her sophomore year, the improvements were drastic across the board.
The team went 24-4 on the season and lost in the State Championship game against Altoona at the Kohl Center in Madison. Richard had a solid game, going three-of-six from the field for seven points and bringing in six rebounds in the defeat.
On the season, Richard averaged a healthy 6.5 points, putting up 163 points during the season.
Richard's junior season was the year the team was able to finally get over the hump and give two incoming Titans a high school state championship.
The Storm went 24-4 on its way to securing a championship, with Richard putting up an average of 9.2 points per game during the year. Her season-high of 19 tied for second highest on the team, as her scoring average per game placed her fourth on a balanced squad.
Richard's senior year was a repeat of her junior season, as the team was once again state champion. The Storm's 23-game winning streak after its only loss on the season was testament to the development of Richard in her final year, as she became the second-leading scorer on the season with 341 points in her final season.
Her season average of 13.1 placed her second highest for points per game, and her season high of 22 also tied for second on the team. The Storm was able to replicate its success two seasons in a row, and a big part of that consistency was due to the development of Richard's career.
Unlike Staples, Schmidt and Kokta, Richard went through a different kind of recruiting process. Her three fellow graduating members maintained a high level of communication with the coaching staff throughout their recruitment, but Richard said it was important that the process was done in a way that worked for her.
"From the minute I walked onto campus, I knew I wanted to go there," Richard said. "But with the recruiting process, I think Fischer could tell I needed my space to make my decision, so I did not talk to him that much, and that really helped that I had my space to think."
This class has enjoyed consistent success since arriving on campus, which is something Richard said they cannot take full credit for.
"I don't know if we can take that much credit for the team effort," Richard said. "I guess I will say that our leadership has been a part of it being so experienced in this process, but I think everyone has come in with a great mindset and a winning mentality."
Something the team has taken to heart recently has been the emphasis placed on defense, tempo and toughness, and both Schmidt and Staples echo each other in regards to the team's fundamentals.
"We take a lot of pride in our defense," Schmidt said. "I know at least at the beginning of the year, we were one of the top defenses in the nation, so I think that is very important when we come into face these new teams that really have not faced the defenses that we play."
"I would say toughness; it has always been our number one thing that we talk about in pre-game talk," Staples said. "I think that especially this year, we have done a good job of not just talking tough but proving that we are tough."
Even with each player coming from a different background and school and experiencing different playing careers, Staples said the seniors work well together because they have understood the expectations since the beginning.
"I think that us being together for so long, and, especially with Coach Fischer, we understand what the goals are and what the expectations are," Staples said. "We all do have different personalities, we all do have different angles and perspectives that we bring to the table, and I think that is what makes us unique and different."
The team understood that with last season ending in the second round of the National Collegiate Athletic Association tournament, improvements needed to be made. Staples said the seniors came together and knew the team was capable of making the necessary changes.
"In our first meeting, it was us discussing in August about [how] we needed to make different changes for preseason," Staples said. "We amped up our conditioning, we amped up our lifting, we just took everything to a higher level because we were disappointed in how it ended. We just made that known, and we communicated to the girls, and everyone was on board and that was kind of the start of it."
Each graduating member has had moments in their career that stand out over everything. Schmidt said her moment involved another team on campus, and the atmosphere of that game had a unique nature.
"Another one that sticks out to me is the whiteout against Stevens Point," Schmidt said. "I think the whole football team was there, and it was just cool to be playing in that entire atmosphere, and we won in double overtime, so that was pretty cool."
Ninety-eight wins and four consecutive NCAA tournament appearances is not enough for this class to be remembered by, an outlook Schmidt said goes back to why she became a Titan.
"I would like to be remembered for being the team that brought back Oshkosh basketball," Schmidt said. "Being Fischer's first recruited class, he wanted to turn our program around, and we just got to be along for the ride. I think that in ten years, people will realize, 'Oh, I want to go to Oshkosh because it is a basketball school.' So I think having that imprint on us as seniors is pretty cool."
Sitting down with the team on game day before the Sweet Sixteen against Washington University this past Friday was an eye-opening experience. The basic fundamentals that the team echoed throughout the interview spoke volumes about the culture that has been created by Fischer for his players.
To wrap up the interview, each of the four graduating members were asked to sum up their playing careers in a sentence. As hard as they assumed it to be when they heard the question, Schmidt summed up their life-changing experiences at Oshkosh in a unique way.
"It was some of the best days of my life," Schmidt said. "We got to create friendships that will last a lifetime and make memories that will also last a lifetime."
All four of these players were fighting back tears when the interview began winding down, but the true character of this team was embodied by this class. Everything they have accomplished as a group will always be cherished, and the tears were shed in remembrance of all the great moments they have experienced as a group.
Everything was left on the court by this group, and Kokta summed up the experiences in the best way possible.
"It has been one hell of a ride," Kokta said.