Menting shares past stories, her life as an athlete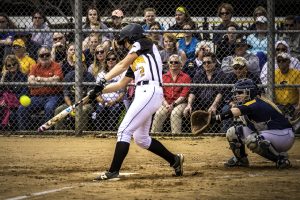 Abby Menting has never been the most athletic player on the softball field.
The sophomore catcher wasn't born with genes to make her exceptionally strong or fast. According to Menting, every goal she has reached since she started playing softball at age 10 resulted from her persistence to push herself.
"Growing up, I was always pretty average," Menting said. "When I first started playing, I wasn't good at all. I was way behind a lot of the girls. When we started playing 12U, we had tryouts and I made the B team and I was super sad about it. My dad said, 'If you want this, you are going to have to work hard.' I have worked for everything I have ever earned. I wasn't born with any super athletic abilities at all. And it has taught me a lot. Softball has taught me a lot."
Today, Menting is the starting catcher for the UW Oshkosh softball team. She led the Wisconsin Intercollegiate Athletic Conference with a .417 batting average last year as a freshman. She was named WIAC Co-Position Player of the Year and to the All-Great Lakes Region First Team as well.
Growing Up
No. 2's softball career traces back to when she played on recreational teams through the Village of Combined Locks and the Village of Kimberly where she grew up.
Menting recalled how she first got involved with the sport through chance more than anything else.
"I don't have older siblings, so my parents weren't really pushing me to do anything," Menting said. "Growing up, I played basketball but not very seriously. One of my dad's friends coached a rec team. When I was younger he was like, 'Why don't you just come out and sign up' So I got started that way. That is where it all began – playing for one of my dad's friends."
After a year of playing on rec teams, Menting joined the Kimberly Cardinals, a traveling club team. This is where she made the B team her first year and started focusing on improving her skills.
After playing for the Cardinals, Menting tried out for the Junior Phoenix, located in Green Bay, a team she stuck with for two years. At 17, Menting joined New London Fastpitch Impact, a highly competitive travel team, where she played her last two years of summer ball.
Sophomore pitcher Bailey Smaney played with Menting on the Impact team and was also a part of the Junior Phoenix club, but on a different team. Smaney said the two are now close friends outside of softball as well.
"I've always known of Abby, but I didn't know her on a personal level," Smaney said. "But I did get to see how knowledgeable she was as a catcher and as a person."
High School
Menting started at Kimberly High School in 2011 and tried out for the softball team her freshman year. Although she was disappointed for being placed on the JV team during the regular season, Menting was brought up to varsity during the postseason.
"Playing in the summer totally prepared me for being pulled up," Menting said. "There wasn't anything I wasn't prepared for."
Menting was thrown a curveball during her sophomore year, though.
"I started out being the catcher," Menting said. "Our pitcher got hurt so I ended up being our starting pitcher. We made it to the sectional finals, but we lost in extra innings, which was devastating. But it was pretty awesome."
During her junior year, Menting went back to playing catcher. That year, the Papermakers won State. Menting said this is one of her all-time favorite softball memories.
Menting found herself back on the mound during her senior year because the starting pitcher suffered another injury.
UWO softball coach Scott Beyer said Menting's versatility and willingness to play two positions in high school is what makes her a valuable player to any softball team.
"That is just a testament to her work ethic and blue-collar mentality where she does what is needed," Beyer said. "She did not have to pitch her senior year, but she chose to because that was the best thing for her team at that time. That is a great thing for a young kid to just say, 'I'll do it for the team.' It's very much appreciated by a lot of people that she is willing to do stuff like that."
According to Menting, it was a no-brainer to step in and help when needed during high school.
"I have always enjoyed having control of the game," Menting said. "Being a pitcher or being a catcher, you're always involved in every single play. I have always responded to whatever my team has needed. It's cool being in either one of the spots that are super important for the team. "
Smaney said she feels comfortable at the mound while Menting is catching, knowing she once was in her position.
"I think she understands the pitcher's side better," Smaney said. "As a pitcher, sometimes you have off days and I think she gets that. She understands, as a very good hitter too, what pitches are good and what pitches are bad."
During high school, Menting was named second team all-conference once and first team all-conference, first team all-district, first team all-region and first team all-state twice each.
Menting has sometimes experienced backlash from people. When she stepped in as pitcher during her senior year, Menting was filling the shoes of a University of Oregon softball recruit.
During the first game at State in Madison during Menting's senior year, the Papermakers were scheduled to face Watertown. Kimberly was outhit, outplayed and ultimately beat by the Goslings.
Menting described how a sports reporter tweeted negatively about her team during the game at State.
"We refer to him as PC Ricardo [Ricardo Arguello]," Menting said. "He works for the Post Crescent. He tweeted out, 'Kimberly doesn't look the same without their All-Star pitcher on the mound.' Because I was on the mound. A friend of mine from Kimberly who was at the game saw it and tweeted back, 'There's no 'i' in team.' Which is true because we did just fine without the other pitcher. PC Ricardo tweeted back, 'There's an 'i' in win.'"

College Recruitment
Menting started hearing interest from colleges early in her high school career.
She was contacted by UW-Green Bay when she was a sophomore. Menting was offered a scholarship and verbally committed to the Phoenix when she was a junior. However, the offer fell through when the coach retired and Menting began looking other places.
"It turned out to be a blessing in disguise," Menting said.
Beyer said he didn't begin actively recruiting Menting until he heard the UWGB offer wasn't going to work out.
"Everybody had great things to say about her, as far as, she's a really good player and she's a great teammate," Beyer said. "As a pitcher-catcher combo, she is very down to earth and can communicate well with pitchers. The word on the street from everyone I respected said, 'you're going to get a good one there.'"
Before committing to UWO, Menting toured Whitewater, La Crosse, Mankato and Winona. She was offered a scholarship from Mankato, but decided to turn it down.
"It just turned out that Mankato is just way too far away," Menting said. "It was not realistic for the type of person I am."
Menting said she picked UWO after meeting Beyer and touring the campus.
"I came during the school year of my senior year," Menting said. "It was later in the recruitment process. I came and met with Coach Scott Beyer. It just felt right to me. It was a really good feeling."
Abby's Life Today
Menting is about to finish her sophomore year at UWO. She has a 3.97 GPA and is a supply chain management major. She enjoys going to her cottage in the summer and spending time with her family. Her two sisters, Ally and Emily, play on the JV and varsity teams at Kimberly High School. Menting said she hopes she can continue to play softball and teach lessons after she graduates from college.
"I work with a company called 360U and it's a softball company where we give lessons on like hitting, fielding, catching and pitching," Menting said. "We work with small groups and lessons and camps for high schoolers. We get to inspire younger girls and foster the confidence and give them the tools they need to be successful."
Beyer said because Menting is only a sophomore, she still has a lot of time to grow as a player. And, with her work ethic, he is excited to see how talented of a player she is going to become.
"She is more determined than any kid to get it right," Beyer said. "Some kids are gifted and you can just tell. She is definitely gifted, but it's not because it was something that was given to her. She's earned everything that she's gotten. She's a great student and she's one of our best players. You combine those things and she obviously has her priorities in order. You can look at her statistics or her GPA and they speak for themselves. It speaks to her work ethic."