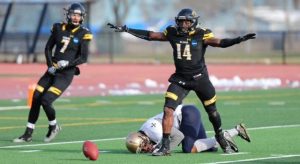 UW Oshkosh football player Cameron Brown, who played defensive back for the Titans for the last four seasons, finally reached his goal on Saturday when he was invited to the 2017 Green Bay Packers Rookie Minicamp.
After finding out the news, the senior sent out a tweet Sunday morning saying, "Just want to say I [am] thankful and blessed for the Packers to give me [an] opportunity to continue my dream! #God is good! @packers."
Brown said the happiness he felt was indescribable.
"I was notified by my agent Brad Leshknock during the last few picks in the seventh round of the draft," Brown said. "My first reaction was thanking God with a big smile."
UWO football head coach Pat Cerroni said he has been happy for Brown since he heard about the invite.
"This is kind of the dream come true," Cerroni said. "He just wanted an opportunity and he got it.
And hopefully this leads to many more because I really think he's got a couple of years here where he could play and contribute to a team. Maybe not the NFL, but maybe the CFL or an arena team. And that's really what he wants to do, to just continue playing ball as long as he can."
Titans junior quarterback Brett Kasper said he was not surprised when his teammate was invited to attend a minicamp but was excited when he heard which team it would be for.
"I actually didn't have much of an initial reaction due to the fact I simply knew he was going to get an invite, it was just a matter of from who," Kasper said. "Therefore there was more so a reaction to the team he was invited by, which was pretty cool since he is a Wisconsin kid. Every kid growing up in Wisconsin dreams of one day playing for the Green Bay Packers."
Brown started as a freshman at UWO when he was 22 years old and is now 27. During his freshman season, Brown competed in just two games. This past fall, he played in 15.
Brown said his improvement is due to the dedication he has put into playing the sport.
"It shows all the countless amounts of hours I put into the weight room, field, film room and researching," Brown said. "It also shows if you have a dream and you dedicate your everything toward it, the results are beneficial."
However, Brown said he could not have gotten this far without staying true to his faith.
"I pray every night about becoming a better man, becoming a better human and a better player," Brown said. "He's laid a path out for me. I'm just following it, and so far, it's been leading me towards my dreams."
This past season, Brown had 40 tackles and 24 assisted tackles, giving him an average of 4.3 tackles per game. He had one interception and one blocked kick.
When asked what kinds of coaching and advice he gives to Brown, Cerroni said No. 14 no longer needs his help.
"I don't think I give him advice any more," Cerroni said. "He gives me advice. He's the one who's been through it. He's had to work hard this season. There's a lot to it, and he's sacrificed a lot, as far as going to Waukesha and training every day and doing things, he needs to do to get this opportunity. We are all very proud of him."
Although making it to the pros is uncommon for players who play Division III in college, it is not impossible. Senior Evan Thammahong, who played wide receiver for the Titans for the past four seasons, said how honorable it is to be invited to play with the pros for someone at the D-III level.
"It's always a tough road for a Division III athlete to make it to the next level because of the small amount of exposure Division III gets," Thammahong said. "Cam is doing something so many people don't get the opportunity to do and I hope he just takes a moment to step back and gain perspective because his hard work is paying off."
Brown said he is an example of how taking advantage of opportunities can lead to big things, no matter what level someone plays at.
"Every opportunity given to you to prove that you are worth a shot in the NFL; take it, no matter how small and dumb it may seem," Brown said. "Those small opportunities turn into big ones. Also remember every opportunity doesn't just present itself. Sometimes you must create those opportunities for yourself. There are no handouts when it comes to something you want in life. One last thing, stay humble and embrace the process. Each step forward should be viewed as a success, no matter how small."
Kasper said he hopes Brown continues to make a positive impact on other teams the way he did for the Titans.
"Cam's work ethic is extraordinary," Kasper said. "I've only been around two or three other guys who can match his work ethic. However, it's not only his work ethic that sets him apart. Cam was a great leader during his time here at UW Oshkosh and taught many of the underclassman, including myself, how to lead by example. Cam definitely left the program in a better place than what he came into."