Award-winning playwright driven by Greek tragedy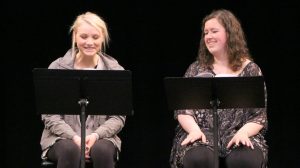 A live reading was performed of Hannah Clark's play, "Icarus," Wednesday night in the UW Oshkosh Experimental Theatre.
Clark is a freshman theatre major whose play won the 19th annual UWO Playwriting Competition after being in Professor Richard Kalinoski's playwriting class.
According to Clark, "Icarus" is all about escaping.
"Everyone in the play is trying to escape something," Clark said. "The main character is a girl named Amber who is struggling with her past, present and future all at once."
Amber was read by UWO student Anna Schiferl, the role of her father, Harry, was read by UWO student Aaron Busse and both Amber's mother Beth and father's girlfriend Karen was read by UWO student Sara Neumann. The stage directions were read by UWO student Crystal Knuth.
Clark said the inspiration for her play came from Bruegel's painting "Landscape with the Fall of Icarus," which is mentioned in her play.
"I was utterly entranced by it," Clark said. "Later I found out that William Carlos Williams wrote a poem inspired by that painting. I knew then that I wanted to be part of that – I wanted to tell the idea of Icarus in a new way."
Clark said she wanted to rewind the story back to before Icarus fell and focus on the escape.
"I found a character who needed to escape, and I ran with the idea," Clark said. "Seven drafts later, here we are."
Senior radio/TV/film major Brittney Wagner attended the reading after her friend asked her to go.
"I wasn't sure if I would enjoy the reading," Wagner said. "But I was pleasantly surprised and really enjoyed the play."
Wagner said she thought having one person play multiple roles added an interesting element to the play.
"Sara did a great job of switching between the roles of Karen and Beth," Wagner said. "She drew parallels between the two characters but still made their personalities distinct."
The UWO Playwriting Competition winner gets to rehearse their play for six to eight hours with a selected cast, give a public reading, receives a framed poster created for the reading as well as $100 cash prize, according to Professor Richard Kalinoski.
Kalinoski started the competition in 1998, and he coordinates the competition in its entirety and also directs the winning play or plays.
"Because of my background as a working playwright, it made sense to me to offer this opportunity," Kalinoski said. "This project is one beyond the normal responsibilities of our department. Because of challenges for time and other commitments I am the sole judge."
Kalinoski said around 10 to 20 submissions are received each year and any UW Oshkosh-enrolled student is eligible to enter the competition.
"Students should participate because working with an experienced cast helps them improve their writing, their sense of dramatic structure and their understanding of the power and influence of actors on a script," Kalinoski said. "Equally important is the chance for the student playwright to witness and learn from a live audience in attendance at the public reading."
Honorable mentions for this years competition include Nicholas Martin, Alex Ovadal and Keith Irish.