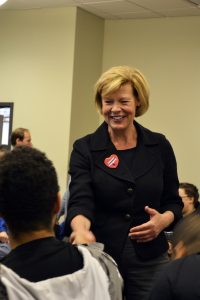 Wisconsin Senator Tammy Baldwin told UW Oshkosh students to tell their unique stories when she met with College Democrats on Thursday.
"One of the most powerful things for me throughout this campaign as I've been traveling to campuses and county or local party offices is the power of a personal story if you have them," Baldwin said. "If you have one of those stories you can share, make it fun."
Baldwin wasn't the only political figure at the event, held in Reeve Memorial Union on Oct. 20. Other electoral candidates who came to UWO include Mark Harris, Gordon Hintz and Sarah Lloyd.
Baldwin said young voters can have a big impact in politics.
"It has been the youth vote that has made a huge difference for me," Baldwin said. "In unprecedented numbers, people got out and voted and made the difference."
President of College Democrats Brandon Colligan said Baldwin came to UWO to get students more involved in election season.
"We just wanted to raise the importance of voting and students' involvement in the democratic process," Colligan said. "We believe that Tammy has been an advocate for a lot of issues that students care about and she's an elected official, so obviously we want to have her."
According to Colligan, College Democrats hold events like this to raise students' awareness as Election Day draws closer.
"We just want to raise awareness towards the election, increase student participation and increase the engagement of students in the democratic process," Colligan said.
Colligan said Baldwin's appearance at UWO is important because she is a big public figure who can raise the significance of students issues.
"Tammy provides insight into issues and federal government that we may not see on a daily basis effecting our lives," Colligan said.
According to Colligan, political figures can emphasize the importance of voting to students.
"We invite people like Senator Baldwin to come talk to us and invite a number of elected officials to talk about what they're passionate about and the issues that actually affect students," Colligan said.
According to Lloyd, having conversations with students independently helps raise voter turnout.
"We need people to get active because the very best way to get people out to vote is to talk to them one-on-one," Lloyd said. "Making sure you have one-on-one conversations with people is really important."
Baldwin talked about the election and candidates such as Republican Donald Trump, Democrat Hillary Clinton and Democrat Russ Feingold. She also emphasized the importance of the role college students play in the voting process.
Although this is a presidential election, Baldwin said voters should vote for candidates in every position.
"We need everybody to vote down the ticket," Baldwin said.
Baldwin said one of the reasons she got involved in politics in the first place was to advocate for college students.
"I wanted to be involved in my community in a way that could make a difference," Baldwin said. "I had the opportunity to run for the county board. I put my head in the ring, and part of what motivated me was reading story after story about college students on campus who were uninsured, poor and had become ill."
Baldwin said she ran for county board to make changes for uninsured college students.
"I learned that if I could run for county board, I might be able to make a difference on this, and we did," Baldwin said.
Baldwin said advocating for college students helped her realize young people had to let their voices be heard.
"It also just reminded me throughout my career how important your voices are," Baldwin said. "And how important it is that you use them to advocate for any injustice that gets you fired up and that you're passionate about."
Baldwin said this is why she encourages students to vote on Election Day.
"I want you to feel and know your power, that you decide what's possible," Baldwin said.
Baldwin said she encourages early voting, and that it is vital for many voters.
"Now that we have early voting, today is Election Day," Baldwin said. "Tomorrow is Election Day. Next Monday is Election Day, and we've got to think of it that way and get people out to the polls. Every day between now and Nov. 8 is Election Day. We've got to look at it that way and take our own responsibility."
Baldwin advises voters to vote as early as possible to get their voice out sooner.
"While there have been many efforts to repeal and diminish voting rights in the state of Wisconsin, one of the things that has not been taken away is the ability to register quite close to Election Day or on Election Day," Baldwin said. "There's many states where same day registration isn't an option … We are not a state that does that. It's not too late. It's easy to do."