Special Olympics come to UWO for the 41st consecutive year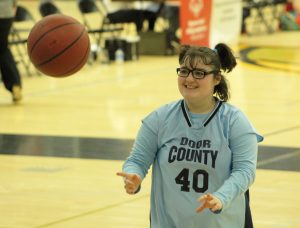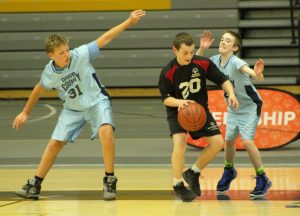 Special Olympic athletes competed in the 41st-annual state indoor sports tournament at the University of Wisconsin Oshkosh Kolf Sports Center on Saturday and Sunday.
Gruenhagen Conference Center Director Marc Nylen said he has been working with the Special Olympics Program for 13 years. He said the event hosts groups of Special Olympic athletes from most of the Wisconsin counties who come to UWO to compete in the basketball tournament.
"It is the single longest conference history that we have hosted so I have really enjoyed working with it for the many years that I have," Nylen said.
Josh Semrow, age 25 from Portage Wisconsin, said this is his 6th season playing on the basketball team and he loves to come to UWO because of the positive environment.
"I like the way that we can all come play basketball together and come up and have a good time and have fun," Semrow said.
Nylen said there are a lot of important elements that go into the weekend's tournament, such as the ROTC program helping with setup and student delegations from across the UW Colleges.
"The athletes lodge here in Gruenhagen, and they get the opportunity to dine all weekend on campus in Blackhawk along with the rental of some facilities," Nylen said. "So, I think it is important for the town and gown as well to know we are hosting events like these."
Nylen said there are a hundred to a hundred fifty people who serve as volunteers, and that is really important for the Special Olympics.
"People travel from La Crosse. [Also], doctors from Milwaukee and Madison to help volunteer," Nylen said. "When you volunteer, you want to know that your time was well spent helping."
UWO alumni volunteer Josh Calhoon said he decided to help out at the event through a service program at Concordia University as a part of the community outreach.
"It is a very positive environment, nice to see the athletes play together, and see them interact and compete," Calhoon said. "If they didn't have programs like this, they would feel left out. It is a very good way to have them be involved."
Nylen said it is a competitive tournament and the teams don't want to lose but all of it is in good spirit.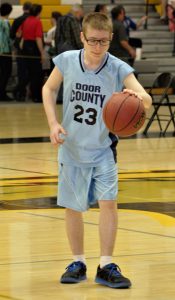 "It is special for our students and equally if not more for those special athletes," Nylen said. "But you can tell they want to perform well, and they want to win."
UWO Basketball Head Coach Pat Juckem said the UWO basketball team was asked to participate in the Special Olympics State Tournament two years ago and they were given a proposal to play a game with the athletes.
"We are always looking for ways to engage and give back to our campus," Juckem said. "It went really well, and our guys got into it."
Nylen said there is an age range on these teams, for instance there could be an 18-year-old male who is participating on the same team as a 40- year-old female.
"I like how you can see athletes and coaches interact with each other," Nylen said. "It is the spirit of competition."
Steve Lenon, 31, from Waupaca, Wisconsin, said he really enjoys playing basketball.
"I just like playing with my teammates, and just playing basketball is fun," Lenon said. "It is a good place to play."
Nylen said the UWO campus is very welcoming, and the athletes look forward to coming back year after year.
"It feels like they are coming home again," Nylen said. "It gives the athletes a sense of ownership of the campus."
Juckem said overall, it is a festive environment watching how the athletes interact and how competitive the teams were and the love of the game showed through.
"It was a seamless event," Juckem said. "They really enjoy being like anyone else, and anything they can do that makes them feel like anyone else, [it's a] confidence boost for them."