Titan Takeover eases new students into campus life

New UW Oshkosh students stormed J.J. Keller Football Field and created a human tunnel to welcome the Titan football team onto the field for its home opener against Virginia University of Lynchburg on Saturday, Sept. 9.
UWO Coordinator of New Student and Family Programs Jennifer Hartzheim said one of the main factors behind the creation of this new event, Titan Takeover, was to pursue new traditions and to encourage students to attend athletic events.
"My understanding is that at UW Oshkosh we have some student traditions, but not a lot, so what are some ways that we can immerse our students in traditions on our campus is really where this came out of," Hartzheim said.
Hartzheim said easing the transition for new students into the UWO community through events such as Titan Takeover, helps to create a sense of belonging for freshmen and transfer students and ultimately helps them be successful.
"Students who are more engaged in their experience feel connected and have a sense of belonging are more successful in college," Hartzheim said. "That's what we're about; we're about student success. These are the things that kind of help cement that in that there's the feeling of 'I'm a part of something bigger than just myself. I'm not just here to go to classes; I'm part of a bigger community.'"
Hartzheim said she started at UWO on Aug. 2 and had a very short time to organize the Titan Takeover, which was originally scheduled for the Sept. 30 game against UW-Whitewater.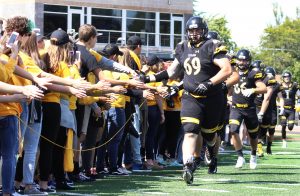 "We kind of put everything into fast forward and made everything happen in a matter of a few weeks," Hartzheim said. "[The Athletic department scheduled] this earlier game and so we decided to really start this with the first game."
Freshman Renea Karman said it was a unique and fun experience being able to run onto the field and welcome the football team.
"It was pretty fun, I'd definitely want to do it again," said Karman.
Despite it being fun for all involved, freshman Emily Fallon said it should be limited to freshmen and new students in the coming years.
"I think they should keep it a freshmen thing; I think it's a cool welcoming and starter thing for them," Fallon said.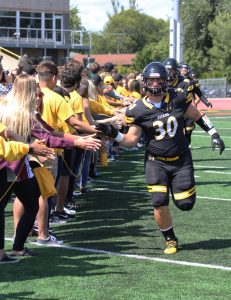 Sophomore community adviser Zach Collins said since Titan Takeover was for all new students, he brought a few of his international residents to the game.
"I brought them [to Titan Takeover] so they could experience their first American football game, and the Titan Takeover was also a cool thing for them to see," Collins said. "They really enjoyed the free food and their new t-shirts."
Greek Life also played a role in the success of Titan Takeover by sponsoring games and activities in the grass area.
Vice President of the Delta Chi Fraternity Chandler Lackey said the incoming students were excited to play corn hole and rush the field.
"It was absolutely amazing to have an event that allowed me to see students come together as Titans and meet new people" Lackey said. "The first annual Titan Takeover was a huge success and can only get better from here.""