UWO Students, community support Special Olympics at Run With the Cops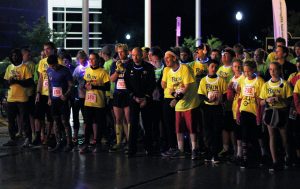 The fifth annual Run With the Cops 5K run/walk and kids' 1K brought community members out to support the Special Olympics and police officials, including the University Police Department, who hosted the event Thursday.
UP Chief Chris Tarmann said there were about 35 to 50 squad cars from local law enforcement agencies on hand to support the event and light the course for runners.
Tarmann said the event is important both for the police and the community since law enforcement is so heavily involved with a person's day-to-day life.
"Police personnel are tasked with handling a lot of negative events in our communities," Tarmann said. "We respond to criminal behavior, we investigate personal matters in the lives of community members and we sometimes have to take away the freedom of those same people."
Tarmann said having the Run With the Cops is a good way to show law enforcement still have feelings when it comes to their line of work.
"This event helps us balance that," Tarmann said. "This event shows our community that we are human, that we care about them more than they could ever imagine and that we need to and will work together to keep our communities safe."
Tarmann said he previously attended the National Law Enforcement Torch Run conference and brought back a message he incorporates in the Run With the Cops event.
"One of the speakers made a statement that has really stuck with me," Tarmann said. "I'll paraphrase what he said: people with intellectual disabilities are God's gift to the world as [an] example of how we should all act they don't hold grudges, they celebrate with the people who defeat them because of their accomplishments, and they embrace everyone regardless of who they are."
Tarmann said others can look to the Special Olympians on how to be more positive and make a positive difference.
"What a perfect example of how we can change the world," Tarmann said. "I love hanging out with Special Olympians — they show so much love for us, they look up to us as law enforcement professionals, they set great examples for how we should behave and by having this event, it gives everyone who attends the opportunity to experience those same things."
UWO junior Kristi Oertel said she came to the run to support the Special Olympics as well as the run to stay in shape.
"I came to support the cause and the Special Olympics as well," Oertel said. "Being a nursing major, I obviously want to study health and diseases, and I don't know where I might go in my field, but definitely showing my support for the Special Olympics."
Auxiliary Officer Shaun Sweetalla from the Menasha Police Department said there were officers in attendance from all over the area to give a hand with the event.
"A lot of law enforcement agencies are out here from Sturgeon Bay, Neenah, Menasha, Marquette, all pretty much in the area," Sweetalla said. "We get together and run with the kids for the Special Olympics, we have the kids run and then after that we line up the streets with our squad cars and cheer everybody on who runs."
UWO junior Samantha Sippy said she registered for the run after hearing about it the past couple of years and because it helps the community.
"It's a good campus event, good for our community, most of the proceeds go to Special Olympics so that's always a good cause," Sippy said. "I like that there's so many different towns that come to this. It's not just Oshkosh police, it's surrounding cities in the Fox Valley area too."
Patrol Sgt. Brian Moll from the Marquette County Sheriff's Office said their unit was there to help support the cause, in addition to helping out Tarmann.
"We're here for two reasons, first and foremost obviously because of the Special Olympics," Moll said. "Also, Chris Tarmann who works for the UW Police Department, he's a good friend of Mike [other Marquette officer] and I. He has asked us to help the last three or four years and we've come every year to give him a hand, as well, and show support for his agency, as well as Special Olympics."
Moll said in addition to helping the Special Olympics, the event invites the community to meet law enforcement and talk face-to-face.
"This event, outside of just the support for Special Olympics also brings a lot of your community people to an event similar to like the National Night Out where you can get families to come in and interact with law enforcement," Moll said. "It helps to try and remove some of the stigma, obviously with the political climate we're in with the younger generations."
Moll said the current views of law enforcement come from misinterpretations in outside parties like the media.
"I think we unfortunately have a negative view of law enforcement because of what you see on TV and unfortunately it's not really good things they see on TV," Moll said. "I think it's good to bring them out and have them realize the bad stuff you see on the news is not how it is everywhere and that's not a good representation of what law enforcement is really about."
Sweetalla said he enjoyed seeing the kids, and participating in the 1k and meeting people from the community.
"Favorite part so far is running with the kids, that's definitely the best part," Sweetalla said. "I think it's good interaction with the police department and just getting out with the community."
Moll said his favorite part was being able to connect with the community and change their way of thinking about law enforcement.
"We were handing out glow sticks and there was one little boy that, for some reason, the dad was trying to get him to come by us," Moll said. "He was terrified, but we gave him a glow stick and all of a sudden, once he got the glow stick, he went from hiding behind his dad to wanting to give us a high-five. So I think if we've changed just that one boy's perception of police, then we've had a success by being here."