UWO men's volleyball creates a dynasty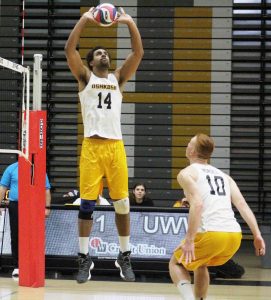 Herb Brooks, the head coach of the famous United States Olympic hockey team, "The Miracle on Ice," said, "You can't be common; the common man goes nowhere. You have to be uncommon."
The UW Oshkosh men's club volleyball team is far from any common organization at UWO. In 2006, the program won the National Collegiate Volleyball Federation National Championship. The following year the same thing happened.
The story does not stop there.
A few years passed before the crown was reclaimed in 2011. From 2014-16, the Titans brought three-consecutive national titles home to Oshkosh.
"As a player, I will remember winning my first national championship and the guys that were part of that team and the program," senior Sammy Pedersen said. "It was, without a doubt, the most fun that I have ever had playing volleyball."
To put the success of UWO Division I volleyball into perspective, the team has earned six titles since 2005. It is currently tied with the University of California-Berkley for the most titles in NCVF history.
Since 2005, UW Oshkosh club volleyball has more championships than Alabama Football and North Dakota State Football and is tied with UConn Women's Basketball. The Associated Press has frequently considered these programs dynasties.
It's time to consider UWO men's volleyball a dynasty, too.
Achievements can be forgotten if the sport is not in high demand. However, it can still have a direct and meaningful impact on someone's life.
For senior Joe Kuchler, making the D-I team this year has been a dream come true.
"I remember watching each of [UWO's] past three national title games from the stands," Kuchler said. "It was something that I wanted and set myself to a standard so I could be a part of this my senior year. After years of work in the gym, reps on the court and developing relationships with players and the coaches, I got to where I wanted to be."
The NCVF is a non-profit corporation with collegiate volleyball commissioners and representatives from the United States. The primary purpose of the organization is to promote health, education and leadership for male and female collegiate club volleyball student athletes, according to ncvfvolleyball.org.
Players can compete for up to six consecutive seasons if they are enrolled in at least nine credits per semester in either an undergraduate or graduate program. Athletes who play in the NCAA can participate in up to four seasons.
UW Oshkosh offers three men's volleyball teams (Divisions I, II, III) who all compete in regular seasons just like athletes who play soccer or football at UWO. However, these Titans are members of the Midwest 10 and the Wisconsin Volleyball conference, not the NCAA.
In addition to the program's six national titles, UWO has won 13 MCT conference titles since 2003, 11 WCV regular season crowns and seven tournament championships.
D-I team head coach Brian Schaefer, who also coaches women's volleyball at UWO, has led this program since 2000 and has brought the Titans to a stellar 776 wins, a .826 winning percentage.
Schaefer has mentored 47 players to 71 collegiate club All-American awards and 132 to All-WVC honors. The Titans have not finished below third in the country in nine of the last 11 years.
"Lumpy [Coach Schaefer] has made a huge impact on my life," Kuchler said. "He's the dad, friend and coach of 35-plus guys every year. Specifically, for me, he helped me develop my work ethic in college."
Pedersen said Schaefer assists students beyond the court. He said he helps kids with life.
"He is here for every one of his players and would do anything for any of them," Pedersen said. "He helps people with more than just volleyball, he also helps with jobs, coaching, and school."
Senior Michael Wamboldt is in his final season with the Titans. He talked about the powerful memories that are going to stick with him forever.
"The biggest moment I will remember forever was the semifinal match against Virginia Tech," Wamboldt said. "They absolutely destroyed us in the first game of the match, and we regrouped ourselves and pulled out the win in three games."
UWO struggled with team chemistry problems early this season and Pedersen said the team had to find a way to close the gap.
"I think that one of the biggest opportunities that we have grown as a group is when we were in Las Vegas for a tournament over spring break," Pedersen said. "We all got to play in a tournament and then spend the rest of break hanging out and bonding with each other. This team is lots of fun and has lots of goofy people. I think that all of us being able to joke around with each other has been a key for us growing close and building our chemistry."
UWO pushed towards the end of the regular season with seven matches against talented programs, including Dayton University, No. 9 Iowa State, No. 12 Ohio State University, Michigan State University, No. 21 University of Miami, No. 4 Marquette University and UW-Whitewater.
The squad ultimately finished the five-game stretch 5-2 snapping a 14-match winning streak.
The Titans are 31-3 with wins against nine opponents in the top 25 in the country.
Kuchler said looking past the wins and losses, this program has given him a new family.
"Every guy in this program becomes a brother when they join," Kuchler said. "Then specifically, your individual team becomes closer than brothers. You end up spending so much time with the guys on your team that you learn nearly everything about them and everything going on in their lives."
For Kuchler, Oshkosh has provided him with one of best nursing schools in the state. He said he could return to the Titans when he comes back for graduate school.
"Nursing wasn't my original plan in college, but, after my freshman year, I found myself pursuing one the nation's best undergraduate nursing schools," Kuchler said. "I also still don't know if this is truly my last year playing. I plan to come back for graduate school to become a family nurse practitioner."
Wamboldt said the team has the WVC Championships this weekend and then will be competing for the grand prize at the NCVF National Championship in Kansas City, Mo. the following weekend.
The senior hopes to add one more championship to his collection.
"The memory of winning three championships with these guys will never be forgotten," Wamboldt said. "I am hoping to help get these guys one more championship and go out on top one last time."
If UWO takes top honors once again, they will hold the record in club volleyball. The word dynasty would become a part of this program if it is not already.
Remember, there is a city of 66,778 people, and there is a school. Inside the many accomplishments of that school, there is a volleyball team. A team that competes against schools many-times larger than it is and blows those schools away. It is a team that gets no headlines in Sports Illustrated and no segment on SportsCenter or even any local coverage.
And all this team does is win.